Fathers day is special to us because my kiddos have an amazing father. That being the case, it is important that we celebrate him in a way that is as special as he is. So, my family and I had headed on over to The Mai-Kai Restaurant and Polynesian Show in Fort Lauderdale (3599 N. Federal Highway Ft. Lauderdale, FL 33308). My husband and I had actually driven by The Mai-Kai Restaurant and Polynesian Show a few times and said that we would one day give it a try so we were all excited to be going there.




When you arrive you can either valet park or self park. We opted for self parking because the walk isn't that bad (and I can use the exercise).  Once you are inside The Mai-Kai Restaurant and Polynesian Show and you check in, you are escorted to your seat. We happened to be seated in front of the stage on the upper level which was a great spot for the watching the show (but you really can see the show from anywhere in the restaurant).

The Mai-Kai Restaurant makes it easy to order with their Bali-Hai menu (a preset menu for $45/person that also includes the show) which includes an appetizer, entrée and dessert. Adults can also choose to order from their ala carte dinner menu and simply pay an $10.95 extra for the show.




My hubby was excited when he saw a lobster bisque on the appetizers menu. I opted for the pupu platter (a combination of Shanghai Chicken, Egg Roll, Crab Ragoon and Tahitian Cheese Tangs) and I really liked the chicken wrapped in bacon.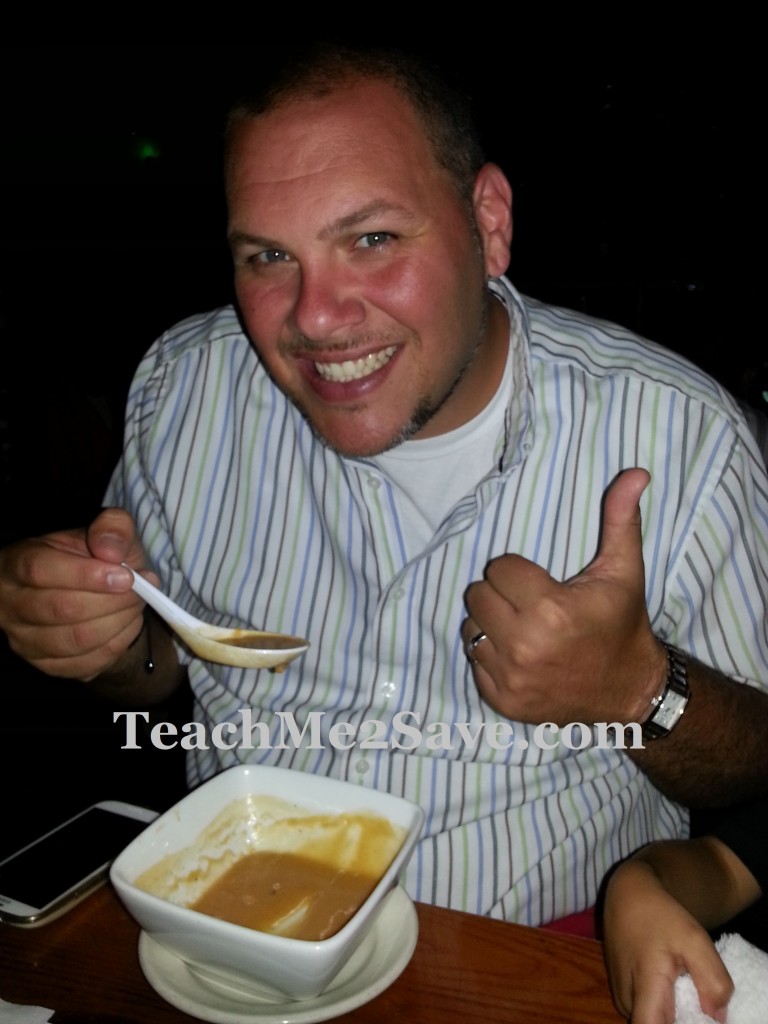 For our main course my husband and I selected the Teriyaki platter. It comes with teriyaki chicken, teriyaki beef and teriyaki shrimp. I of course asked for no shrimp because I'm not a fan of seafood. Next time, I'll keep my shrimp and give it to my husband because he really loved the teriaki shrimp.




Kids 12 and under eat from the Tamarii menu. They get a main course, beverage and dessert and their show is FREE! My son order chicken fingers (I was thankful they had those since he is suck a picky eater) and my daughter went for the ribs.




We were pleasantly surprised by the food portions…it was a lot of food and it definitely filled all of us up.

Our timing was great because right as we finished our meal the Polynesian Show began. This show was extra special because it also had kids performing (which was perfect for Father's Day) and they did such a good job. At one point they even allowed the kids in the audience to go on stage and learn a dance and when they were done they gave them all a necklace.




The adults in the performance are very talented, I wish I knew how to shake my hips like that. Not only do they perform for us but the hostess for the evening also teaches us about the meaning of the dances which was cool.




The Polynesian Show got very exciting when the 2 male dancers started performing with fire (just don't make the same mistake I did and turn off your flash photography when taking pictures of it).




If it's your birthday, anniversary or if you are celebrating something special they will give you a shout out from the stage which I thought was nice.

After the show you can go outside (through the back) and check out their beautiful outdoor setting which has a waterfall, bridge, statues and tropical greenery. It really is a beautiful backdrop for family pictures, so we were all over taking pictures.




If you haven't already been to The Mai-Kai Restaurant and Polynesian Show, you definitely should check it out. Our family really enjoyed ourselves and we left stuffed. It definitely is worth the money.




Disclosure: My family and I were invited as guests to The Mai-Kai Restaurant and Polynesian Show in order to facilitate my review. ALL opinions are my own!