Kaya Scodelario plays Carina Smyth, a strong, smart and fearless woman, in Pirates of the Caribbean: Dead Men Tell No Tales. I loved her character in the film which is why I was so glad we got to sit down and chat with her while in LA. During our interview we discussed her role (costumes and stunts), working with Johnny Depp and more.
Here's what Kaya Scodelario had to say…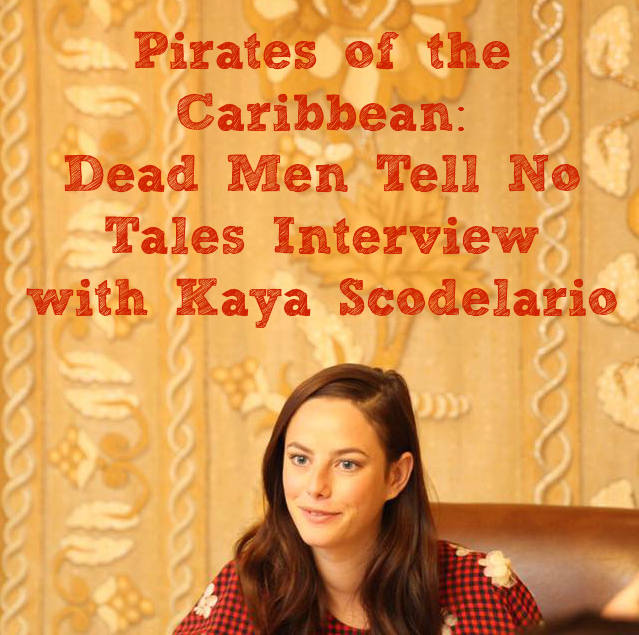 Playing a strong female lead in this movie
"It's always important for me. Every role I look for a woman that I would have liked to have seen at thirteen on the big screen. And it's a huge responsibility because people forget in blockbusters that we're not simple, there are multilayers, and a lot is going on, she has a lot of that. I mean, she's an orphan, she's a survivor. She's also stubborn and argumentative, but also funny and flirty."
Working with a male dominated cast
"Yeah I mean I've been, I shouldn't say lucky because it should be like that- but the guys have never made me feel like the only woman, especially on Maze Runner. And with this one too, they always treat me exactly the same. I've never felt like, you know, I'll walk on the set and they're like the girl is here, we have to stop farting (laughing). They continue to do that anyway. I've grown up with guys; I love them. My best friends are guys, and I like that energy. I think once they get over you being a woman, it can be kind of bonding and nice and but yeah it was interesting. And the last two movies have been very male dominated."
On doing her own stunts
"I do, I love to do all that stuff. Because it's not things, you do every day in life. And to get the opportunity to do it, when you have a great crew that you know it's going to be safe and it's going to be done the proper way. But I injured my shoulder. I didn't break, but I popped out something in there on the Black Pearl of all places. And so afterward it was kind of tough we had about four weeks of filming still so I had to wear a sling in between takes and I had to go quite easy on it…But I did all the swimming; I swam in the Australian ocean with the sharks and every other thing that can kill you there. And it was a lot of fun; I love having the opportunity to do that stuff."
Her costume
"There's something cool about a corset; it does feel quite empowering because you have to sit up strong. But you know, the first day is awful. I'd get my husband to secretly loosen it up at lunchtime so that I could eat and stuff. It does feel very strong, and I like Carina's dress. It isn't perfect; it's tattered, old, ripped up, and dirty as that helped me understand a bit of her back story. I think this is a dress that she's held onto because it's the only one she has, and she's managed to make it as practical as possible to her."
Acting with dyslexia
"Well the biggest thing for me was just knowing that I wasn't the only one. I remember when I was twelve and diagnosed, I was freaked out by it because I didn't understand what it was. For me, it meant I'm dumb, that's like all I knew. I thought well this just means that I can't ever achieve what other people can. And then they had a poster up in my school saying Tom Cruise has dyslexia. And that instantly to me was like, oh okay, well he's doing all right. Maybe I'll be fine, and it's just about having an open conversation about it. There are great resources out there, and my school was wonderful. They gave me extra time in exams. I had a one to one teacher in classes for my reading because that's where I struggled, and just have an open conversation about it and then to find support groups and to make sure that the school also understand what it is. Because it's kind of a taboo subject, we don't really know much about it. So the more we can discuss and the more resources we can bring into schools, I think the better."
Pirates of the Caribbean: Dead Men Tell No Tales is now officially in theaters
Johnny Depp returns to the big screen as the iconic, swashbuckling anti-hero Jack Sparrow in the all-new "Pirates of the Caribbean: Dead Men Tell No Tales." The rip-roaring adventure finds down-on-his-luck Captain Jack feeling the winds of ill-fortune blowing strongly his way when deadly ghost sailors, led by the terrifying Captain Salazar (Javier Bardem), escape from the Devil's Triangle bent on killing every pirate at sea—notably Jack. Jack's only hope of survival lies in the legendary Trident of Poseidon, but to find it he must forge an uneasy alliance with Carina Smyth (Kaya Scodelario), a brilliant and beautiful astronomer, and Henry (Brenton Thwaites), a headstrong young sailor in the Royal Navy. At the helm of the Dying Gull, his pitifully small and shabby ship, Captain Jack seeks not only to reverse his recent spate of ill fortune, but to save his very life from the most formidable and malicious foe he has ever faced.
* I was invited by Disney to the #PiratesLifeEvent to share my experience with my followers. However, All opinions are my own.