Have you already seen Pirates of the Caribbean: Dead Men Tell No Tales? Please tell me that you did. If not, go and see it this week, you won't regret it! Getting to chat with the celebrities who star in the film is fun but getting to sit down with the creative minds behind the project offers a unique experience. That was the case with Pirates of the Caribbean: Dead Men Tell No Tales directors Joachim Ronning and; Espen Sandberg.
Here's what Joachim Ronning and Espen Sandberg had to say…
They started making movies together when they were 10 years old. They met thru dance, break dancing.
"I think that we were in elementary school, my dad bought a video camera so that's why we kind of drifted into that and became very interested in film." – Espen Sandberg
It's important for them to "include the actors and the crew and everyone as part of the discussion basically…everybody can be a part of the discussion." – Joachim Ronning
They worked on the film for 4 years.
"Almost four years we've been working on this movie which is long even for big movies…" – Espen Sandberg
The most difficult part of the process was coming up with Jack Sparrow's origin story.
"And of course like in that process 1 ½ year just working on the script there's always going to be so many different versions and ideas and the process is very long and complex. I think that probably one of the things that we had the most versions of is probably Jack Sparrow's back story and his origin story…how he became Jack the sparrow and all of that…I remember we had like you know 10, 15 versions of that…That was a long and grueling process because the mythology of Pirates of the Caribbean, the series and movies, it's a complex mythology…there's a lot of fans out there that knows everything you know. And so it was important for us to be ahead of that and not mess with any you know previous back stories." – Espen Sandberg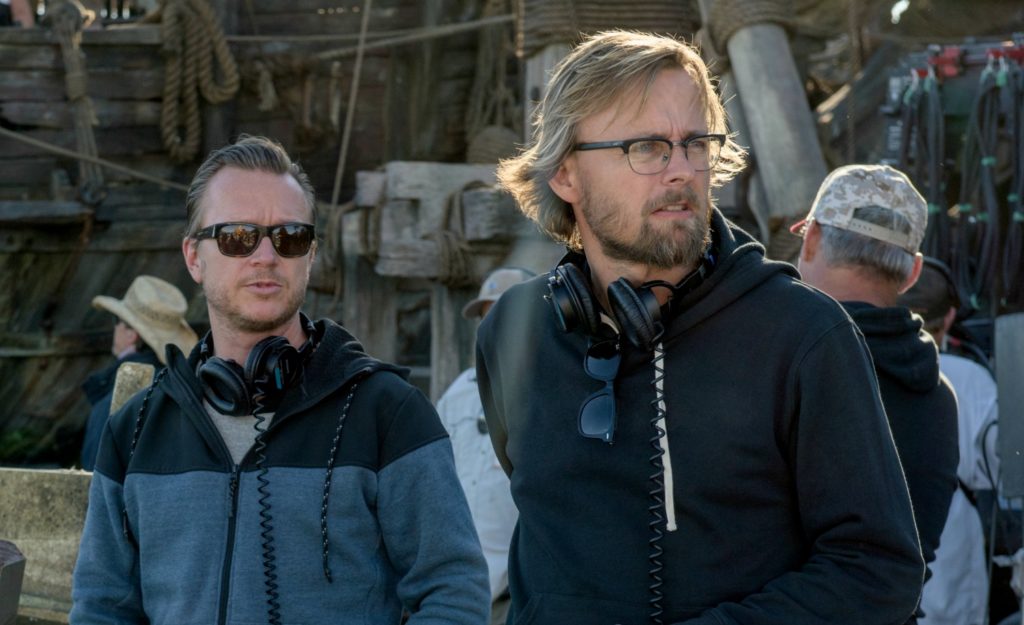 What you see with Johnny as Jack Sparrow is all Johnny.
"Oh, it's amazing. He's so funny. And I mean, what you see with Jack Sparrow is, it's all Johnny. He's a genius. I mean for us he's like up there with Chaplin and the other ones because his timing is just perfect and he has such a weird imagination. So he comes up with the craziest ideas. And for us, the highlight was always going into his trailer in the morning and going through the scenes and the lines and trying to come up with even more cool stuff to do to make it even more funny and of course when we started shooting he would do something completely different. And everyone was sort of thrown off but that also makes it come alive and funny." – Joachim Ronning
Captain Salazar's character wasn't originally Spanish. That changed when Javier came on board.
Joachim Ronning and Espen Sandberg are hoping that families will walk away seeing that "a treasure is not always you know a chest of gold. You know, it could be other things." – Espen Sandberg
Pirates of the Caribbean: Dead Men Tell No Tales is now officially in theaters
Johnny Depp returns to the big screen as the iconic, swashbuckling anti-hero Jack Sparrow in the all-new "Pirates of the Caribbean: Dead Men Tell No Tales." The rip-roaring adventure finds down-on-his-luck Captain Jack feeling the winds of ill-fortune blowing strongly his way when deadly ghost sailors, led by the terrifying Captain Salazar (Javier Bardem), escape from the Devil's Triangle bent on killing every pirate at sea—notably Jack. Jack's only hope of survival lies in the legendary Trident of Poseidon, but to find it he must forge an uneasy alliance with Carina Smyth (Kaya Scodelario), a brilliant and beautiful astronomer, and Henry (Brenton Thwaites), a headstrong young sailor in the Royal Navy. At the helm of the Dying Gull, his pitifully small and shabby ship, Captain Jack seeks not only to reverse his recent spate of ill fortune, but to save his very life from the most formidable and malicious foe he has ever faced.
* I was invited by Disney to the #PiratesLifeEvent to share my experience with my followers. However, All opinions are my own.