Having already spoken with Javier Bardem about his interview experience with us bloggers, Brenton Thwaites still wasn't prepared for the round of applause he received as he walked into the room. I know because he said as much as he made his way to his seat. As he sat down, he flashed a smile that made all of us smile along with him. Our time interviewing Brenton for his role as Henry in Pirates of the Caribbean: Dead Men Tell No Tales seemed to fly by.
Here's what Brenton Thwaites had to say…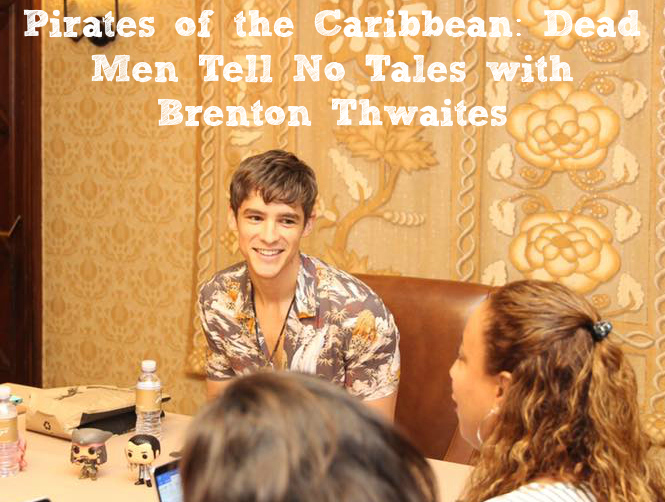 What it was like working opposite Johnny Depp in his role as the iconic Captain Jack Sparrow
"It was terrifying…It's still terrifying. It's always terrifying because you never know what he's gonna say or do and it always results in humiliation for me. [AUDIENCE LAUGHS]…you are entering a scene thinking this guy now has five movies worth of Jack Sparrow and he's on the ball and kind of irreverent and impulsive. You just anticipate what he's gonna do and say, so that's great because, as an actor it kind of improves your acting in the sense that you're always open and free and relaxed to go with the flow, but also pretty terrifying." [AUDIENCE LAUGHS]
How he became involved in the film
"I auditioned a multiple amount of times with Ron and Chris here in L.A., and then I met the directors at a place in Venice Beach, and then the movie got put on hold for awhile, and I re-auditioned about a year later, or a little bit more. And out of that I met Jerry Bruckheimer and the producers, and then I just got the part out of nowhere."
Being a newcomer to this series & having an input on the film
"I think they did value my input as an actor- as an newcomer. There were so many different characters coming into this one to make it a fresh new thing and I think all the old-school dudes really wanted to make it fresh and exciting and something they hadn't done before. So Javier coming on board, myself, Kaya, and the two new directors…supported and encouraged on this one."
What it was like the first time he walked on set
"I was thinking, wow, it's really rained, [AUDIENCE LAUGHS], because my first day on the set, it had been pouring for months or weeks, and the town of Saint Martin which was a farm town called Maudsland, which was about twenty minutes west of the studio, was covered in mud…they kinda used it in the movie which is really cool and dramatic, and adds to the dirtiness of the pirate's world, but I remember thinking, like, I'm gonna have to get some new shoes. [AUDIENCE LAUGHS]
…But I had a scene where my character, Henry is hiding behind a pillar, and he's spying on Jack Sparrow, and I remember thinking, wow, what a perfect way to start the movie, you know, and to see Jack Sparrow drinking rum in the middle of the street, and the whole, whole parade of red soldiers trying to catch him."
Special training for his role
"Just sword fighting. I had a few hand combat fights that we more or less on the day, and the sword fighting stuff, we trained three weeks before the principal photographer."
What he hopes the audience takes away from the film
"I just hope they're entertained."
Special memory of working with Javier Bardem at White Haven Beach
"Javier's like a five year old kid. As soon as he finishes a scene, he makes a run for it, stripping, jumping in the sea, playing, and like fighting in the sand. It was the funniest thing I've ever seen."
Pirates of the Caribbean: Dead Men Tell No Tales is now officially in theaters
Johnny Depp returns to the big screen as the iconic, swashbuckling anti-hero Jack Sparrow in the all-new "Pirates of the Caribbean: Dead Men Tell No Tales." The rip-roaring adventure finds down-on-his-luck Captain Jack feeling the winds of ill-fortune blowing strongly his way when deadly ghost sailors, led by the terrifying Captain Salazar (Javier Bardem), escape from the Devil's Triangle bent on killing every pirate at sea—notably Jack. Jack's only hope of survival lies in the legendary Trident of Poseidon, but to find it he must forge an uneasy alliance with Carina Smyth (Kaya Scodelario), a brilliant and beautiful astronomer, and Henry (Brenton Thwaites), a headstrong young sailor in the Royal Navy. At the helm of the Dying Gull, his pitifully small and shabby ship, Captain Jack seeks not only to reverse his recent spate of ill fortune, but to save his very life from the most formidable and malicious foe he has ever faced.
* I was invited by Disney to the #PiratesLifeEvent to share my experience with my followers. However, All opinions are my own.