There's just something about the Nickelodeon Suites Resort that makes my babies grin ear to ear. They love it there and I get it because I enjoy myself as well. We always have a good time there and our last visit was no different.




Here are just a few of the reasons why we love the Nickelodeon Suites Resort…

Water Fun




They have swimming pools, hot tubs, a splash area for the smaller kiddos and water slides for the bigger kiddos and adults.

This time I cherish our time in the swimming pool a lot more because it is the first time my son wanted to swim on his own without the floaties (which is a big deal considering that he hated putting his head under the water). It was there that he became a big boy swimmer.

Getting Slimed

While you can pay to get slimed by the gooey goodness you may remember from the TV Show Double Dare, you can also get a free version of it right at the swimming pool. They offer it twice a day, so be sure to check out the times so you don't miss it.



Character Meet and Greets




Be sure to check the schedule they give you at check in so you can see what characters will be available for photo opportunities.

The character breakfast offers a variety on yummy food and Sponge Bob Square Bob picture opportunities!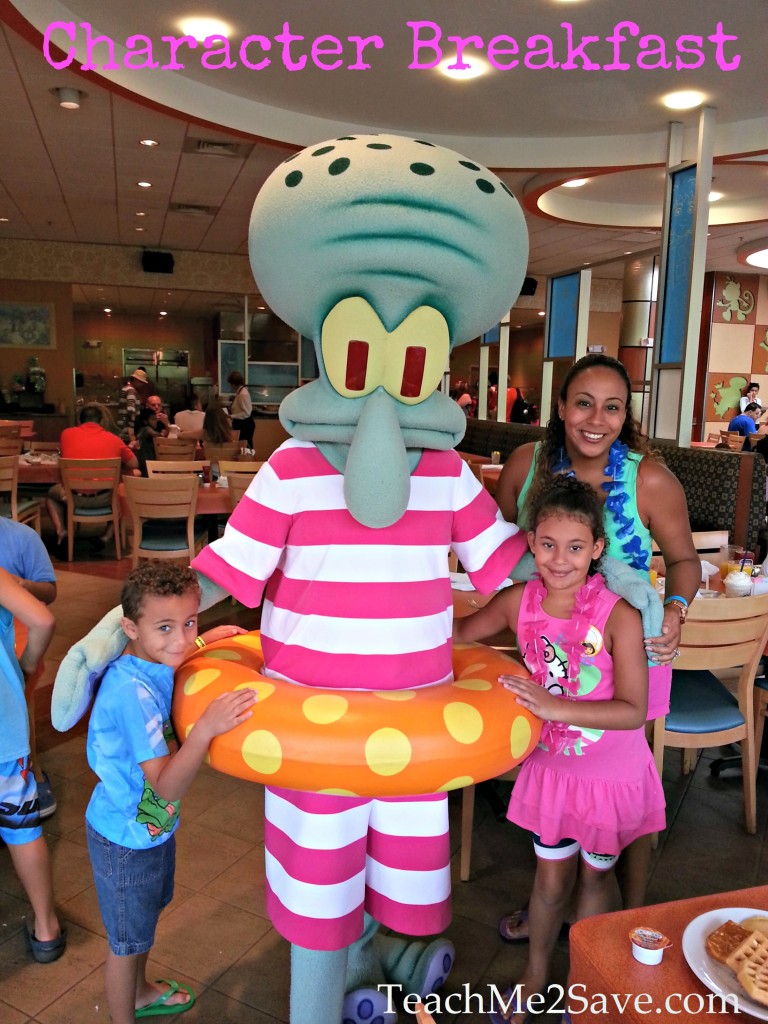 Birthday Fun

If your child is celebrating their birthday, the Nickelodeon Suites Resort gives them a cute button they get too wear during their stay (and keep after the fact). That button got my baby girl a a few "Happy Birthday" wishes from the staff. Plus, they brought a cupcake out to my daughter during the character breakfast and the restaurant sang all the birthday boys and girls Happy Birthday.




Double Dare Game Show

Do you remember watching the show Double Dare? If so, now you can relive it by watching a live game at the Nickelodeon Hotel. You can also participate in it (which is what I wish I would have been able to do…maybe next time)




But my daughter did get to participate in 1 of the activities before the game show got started.




There's much more to enjoy at the Nickelodeon Suites Resort, to read more about it click here
Teach Me 2 Save Tips:
If you are staying at this resort, I suggest you don't plan on going to any amusement parks. Not only will that save you money but it also saves you time and sanity because you don't have to stress about going anywhere. The times I have stayed at the Nickelodeon Suites Resort and gone to an amusement park, my kiddos spent the day asking when we'd be going back to the resort.
I believe the rooms all have a small kitchenette, if that is the case you can make some of your meals to eliminate some of the cost of food.
If you're hoping to participate in the Double Dare Game Show, make sure you get there before 2:00 so that you can audition for it (verify the time)


Note: While my family and I were invited to stay at the Nickelodeon Suites Resort for an evening, ALL opinions are my own.