While in LA, we got the chance to screen an episode of Mech-X4 and chat with executive producers Steve Marmel & Anupam Nigam.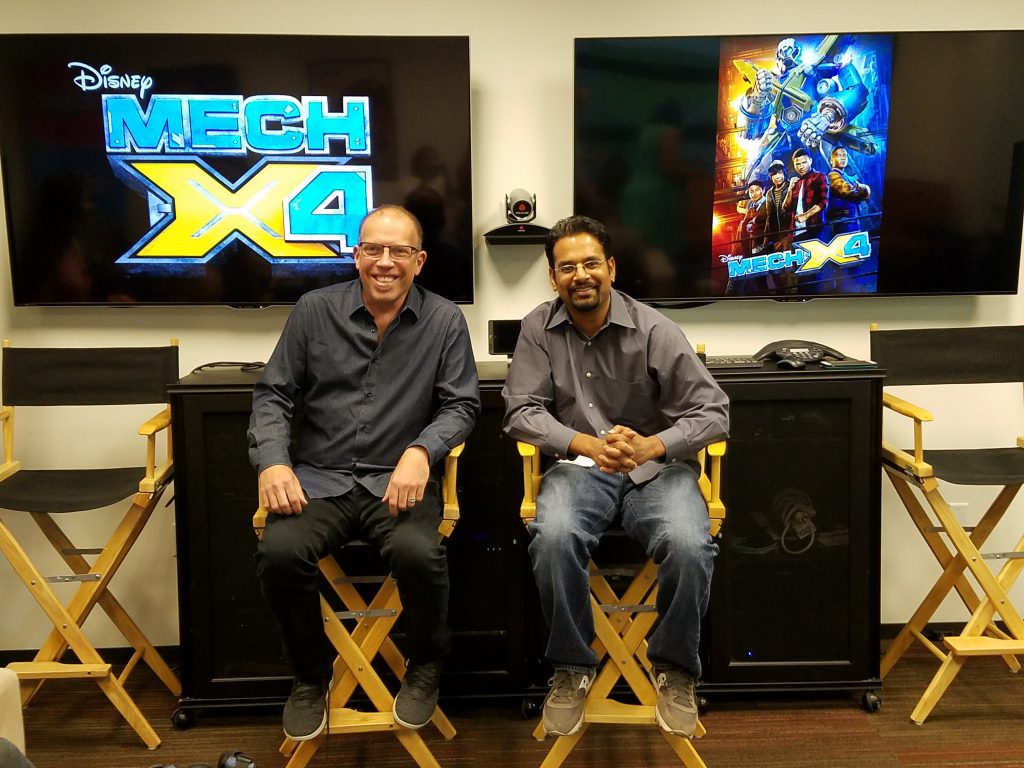 Here are 9 Fun Facts they shared about Mech-X4…
Mech-X4 is one of Disney's first serialized, action shows and is being filmed in Vancouver metropolitan area.
There are several concurrent mysteries going on in season one.
It is filmed in single camera to make it look like a movie.
There's a little homage to Transformers, Godzilla, ET and Goonies in the show.
The thing that powers the show, is the relationships between the kids; between the brothers and between the friends. Even though they have a mission, to fight monsters, it's so much more than that.
Steve Marmel thought it would be fun to do a show about four kids that just happen to have to work together with a giant (150- feet) monster fighting robot, and then the idea evolved.
They do what Zach likes to call Kung-Foo takes. Once they get everything that's written, once we get the intention down, then there's usually a thing where the cast gets to do whatever they want while the camera rolls. They get to do whatever they want to do.
There's usually a method to the madness as to why the monsters are made a certain way. They usually have a specific sort of mission to accomplish. Then they try to come up with the coolest version of what that purpose would be.
The producers hope that people come away from it thinking it's a show about family, friendship and teamwork.
We also chatted with the cast Nathaniel James Potvin ("Ryan Walker"), Raymond Cham ("Mark Walker"), Kamran Allahverdy ("Harris"), Pearce Joza ("Spyder") but I'll save that for a future post.
The series debut of Mech-X4 will be presented in an expanded premiere weekend with four back-to-back episodes on Disney Channel, the Disney Channel App and Disney Channel VOD on Friday, 11/11 through Sunday, 11/13. Be sure to tune in!
When high school student Ryan Walker discovers he has the ability to control technology with his mind, he awakens 150-foot robot MECH-X4 and is able to control every move the android makes. The situation gets to be too much for Ryan to handle on his own, though, when another monster starts attacking the school. That's when Ryan recruits older brother Mark and friends Harris and Pearce to help operate MECH-X4's defense system while he pilots the robot. Together, the haphazardly assembled team of heroes must quickly learn to work together in order to save the school — and, ultimately, the world — from being destroyed.