My Maleficent: Mistress of Evil World Premiere Experience was so much fun! Actually, I'd describe it as bitter sweet. I was so happy to be back on the red carpet but it made me acutely aware that it had been too long since I had done one and that this would probably be the last one for a while. Knowing that, I wanted to make the most of my experience…and I did just that.
I made sure to take it all in. All the celebrities in attendance, having the cast sit with us in the audience as we all watched the movie for the first time and the after party (which I must say had some incredible food). Of course, that also meant trying to get selfies with as many celebrities as possible. Of course, I started even before making it into the Maleficent: Mistress of Evil World Premiere.
My Booboo Stewart Moment that I have been waiting for…
As we were going to walk through the metal detectors, we saw BooBoo Stewart and there was something I had to do. This was my chance. I needed to tell him "You Do You Booboo…Stewart". Why you ask? Well I am sure you have heard the expression "You Do BooBoo" (but if you haven't, I am not sure what to say). Well after previously interviewing him for Descendants 2, I regretted not telling him that (I mean, his name is "BooBoo", how cool is that?) so this was it…the moment I had been waiting for! I was going to do it, after getting my selfie with him just in case he was offended but my friend, Amanda set me up for it.
She told him that I typically say "You Do You BooBoo…Stewart" and he loved it!!! So, I jumped in and told him say it often and he said he liked it and that he would have to start using that.  While I am not sure he actually would do that, I thought it was sweet of him to say. I can finally cross that off my bucket list!
While waiting to get our official badges, Dara's mom asked me where they should go for theirs and given that I had just been at the High School Musical: The Musical: The Series panel at D23, I told them I could help as long as I could get a picture with her.
On The Red Burgundy Carpet…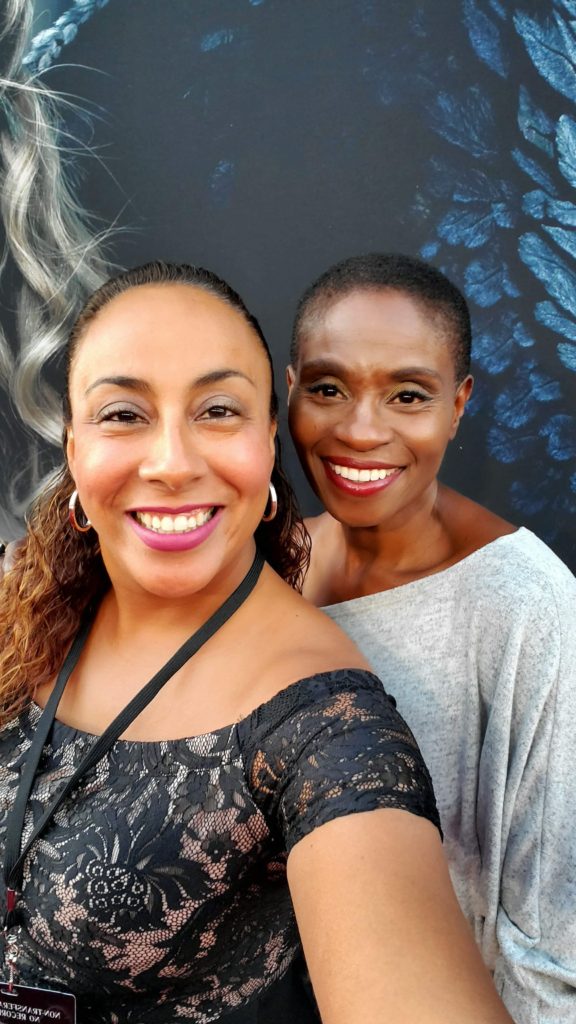 As we were walking to the after party I found myself walking right next to John Voight
The After Party at the Roosevelt Hotel…
Highlight of the party, singing (if you can even call it that) with some of the cast of High School Musical: The Musical: The Series
Getting to experience it with other bloggers I get to call friends (whom I met through the Disney Trips I was fortunate enough to attend) was and added bonus.
More about Maleficent: Mistress of Evil World
A formidable queen causes a rift between Maleficent and Princess Aurora. Together, they must face new allies and enemies in a bid to protect the magical lands which they share.
My official Maleficent: Mistress of Evil World review will be up on the blog this week, so be sure to check back for that.
Maleficent: Mistress of Evil World will be in theaters October 18, 2019!!!