This conversation is sponsored by Mayfield Creamery. However, all opinions are my own.
I scream. You scream. We all scream for an ice cream…party! An ice cream party is fun because not only do you get to indulge in a whole lot of ice cream, but you get to experience it in a unique (depending on how you prepare it) and fun way. This past weekend, we had an ice cream party that everyone seemed to enjoy (including the adults).
If you want to take your ice cream party experience to another level, then make sure you incorporate these Ice Cream Party Essentials & Tips:
Mayfield Creamery Ice Cream
The brand you get is important because you can taste the difference. Now that my kids have had Mayfield Creamery, that's what they want when enjoying ice cream at home. When purchasing your ice cream, don't just settle for one or two flavors, you need options. For our ice cream party, we had six different flavors for everyone to choose from: Vanilla, Chocolate, Chocolate Chip Cookie Dough, Cookies and Cream, Brown Cow Delight and Smoky Mountain Fudge. With a variety of iconic Mayfield Creamery ice cream signature flavors, you can savor the genuine southern homemade taste!
Tip: Consider pre-scooping the ice cream into a muffin tin or a cookie sheet and refreezing for easy serving.
Cones and Bowls
You've got to put the ice cream in something right? So you'll need bowls and cones. While I enjoy a sugar cone, there are people who prefer to have a waffle cone, so consider getting both of them. Actually, there were some who put their ice cream in a bowl and also stuck a cone in their ice cream.
Tip: Think outside the cone or bowl: Serve cookies so that your guests can make their own cookie ice cream sandwiches or consider serving soda so that guests can make their own ice cream floats.
Toppings
You can go the traditional route and have different flavored syrups/sauces, sprinkles, chopped peanuts, whip cream and cherries (if you are fancy) but you can also take it up a notch with some of your favorite chocolate candies broken up into pieces. You can also offer crushed cookies, granola, fresh fruit or marshmallow fluff as toppings.
Tip: Want your syrups/sauces to be served warm? Put them into small squeeze bottles and place them in hot water before serving. Make sure they aren't too hot before serving.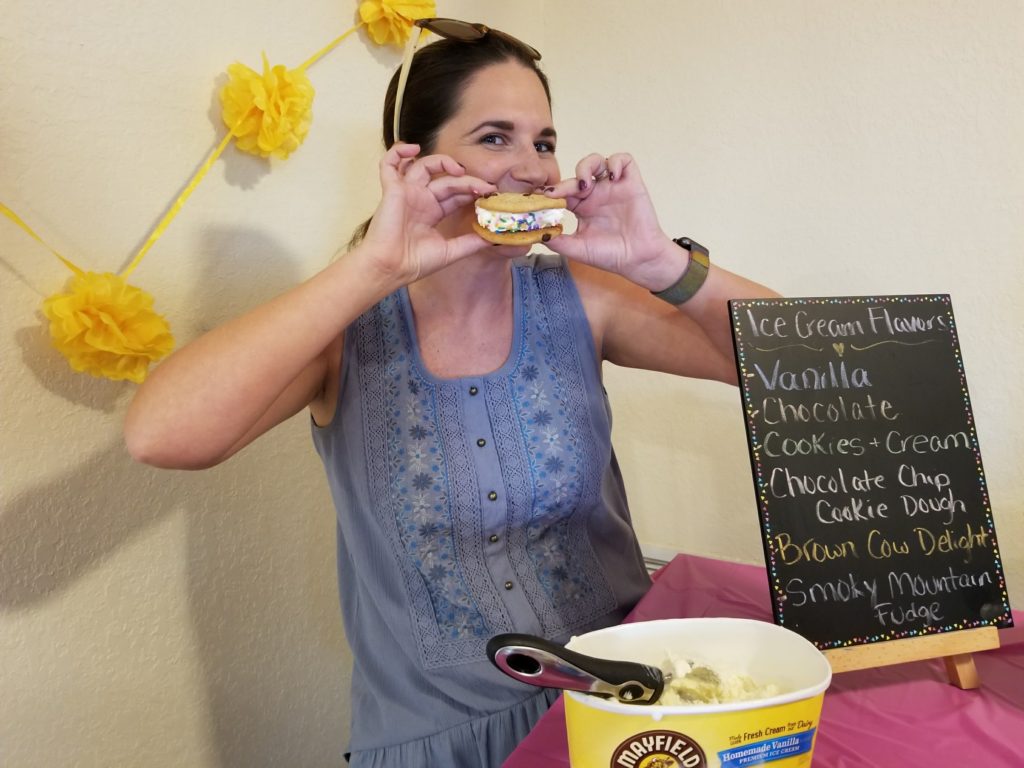 Supplies
Don't forget to get ice cream scoops (although you can also use tablespoons if need be). I also think it is important to have a tablecloth for easier cleanup and napkins (lots and lots of napkins).
Tip: Speaking of cleanup, since we did our ice cream party inside the house, I placed towels on every chair the kids were sitting on to avoid messes on the chairs (which would mean frustration and more cleaning).
People to enjoy it with
Inviting the right people is key. Thankfully, we have some great people in our lives and we are able to enjoy these moments together.
Now available at Publix stores throughout Florida, Mayfield Creamery ice cream sets itself apart by using fresh cream from their own dairy – with no artificial growth hormones – from family recipes that have been perfected over three generations. Host your own ice cream party, you won't regret it.