This is part of a sponsored collaboration with DiMeMedia and Disney Junior. However, all opinions expressed are my own.




Sofia The First has always been a special princess in our home. After all, she is the first Hispanic princess. Plus, Sofia embodies great qualities and values such as friendship, bravery, courage, curiosity, creativity, and adventure. Do you have any Sofia The First fans in your home? Does your child have something special to share with Sofia? If so, what if I told you that your child could send her a letter and get a letter back from her? Well it's true!
That is why we hosted a Dear Sofia Letter Writing Party!!!
Just in case you are interested in hosting your own (which you totally should do), here's what ours was like…

Food

We started off with Food.  I kept it as simple as possible by serving finger foods.




Thankfully I had received a copy of the "Dear Sofia: A Royal Collection" DVD that they watched as they ate. This DVD includes 6 adventure-filled episodes, plus a FREE Sofia-themed stationary set for kids to write a hand-written letter to Sofia….Perfect timing for our Dear Sofia Letter Writing Party!




Dear Sofia Letters

After eating and watching most of the DVD, it was time for them to write their Dear Sofia Letters. I provided them all with letters, envelopes, mail stamps, pens, colored pencils, ink stamps.




As they sat there writing their letters, I loved seeing how each one found a way to creatively make these letter their own.

Stamping most of the letter because they aren't old enough to write yet.




Using stickers




Drawing a picture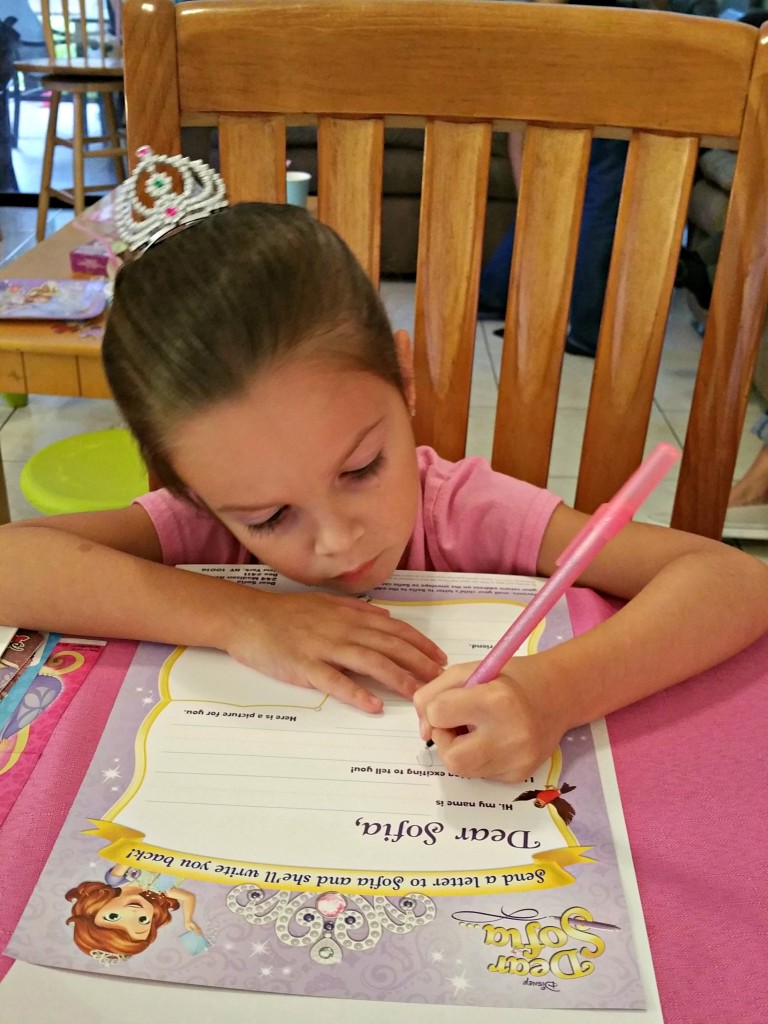 Once they were done, we folded the letters and put them in stamped envelopes (along with a stamped, self-addressed envelope) and sealed them. Some of the guests decorated the envelopes as well.




Then off the Dear Sofia letters went in the mail (All letters to Sofia must be received by December 31, 2015).




For more information on how to receive a royal response from Sofia, visit DisneyJunior.com/DearSofia.

Goodies

All of the guests received a Sofia The First Tiara/Crown, Bookmark,  Amulet Necklace, Ink Stamp

I am a firm believer that the kids shouldn't have all the fun, so us Ladies put on our Sofia The First Tiaras and snapped a selfie to remember that moment.




Not only did the kiddos have a good time at our Dear Sofia Letter Writing Party, they also learned and were able to express themselves creatively. I can't wait to see when they receive their letters back from Sofia. *Remind your prince and/or princess that traditional mail can sometimes take a little while, especially when Enchancia is really far away, so Sofia will write back as soon as she can.

Be sure to tune into Sofia the First: The Secret Library, featuring a special appearance by Merida from Brave, premiering Monday October 12 at 9am/8c on Disney Junior on Disney Channel.

Dear Sofia | Share Your Family Moments with Sofia! Video:



Tech Savvy Kids Answer Questions About Letters & Mail