I think Paul Rudd is pretty awesome. I mean, he is funny, he's a sweet guy and I love him as Ant-Man which is why I am always excited when I get the chance to interview him. I actually saw him at the Avengers: Infinity War World Premiere and I couldn't resist asking him for a picture. I know he must have been asked to take pics quite a few times that night, so I am thankful he was nice enough to say "yes" to me.
Getting to see him film a scene during our set visit was also pretty cool. He is just so funny and you can see just how much his cast mates love him. OK, that's enough about how much I love him, let me get on with the interview.
Here is what Paul Rudd had to say…
The movie starts off with with Paul Rudd's character finishing off his house arrest.
"The movie starts with just a couple of days left on my punishment, and I don't really think that this superhero business is for me, and it just gets in the way of what I want to do." which is go into business with Michael Pena's character and just be a father).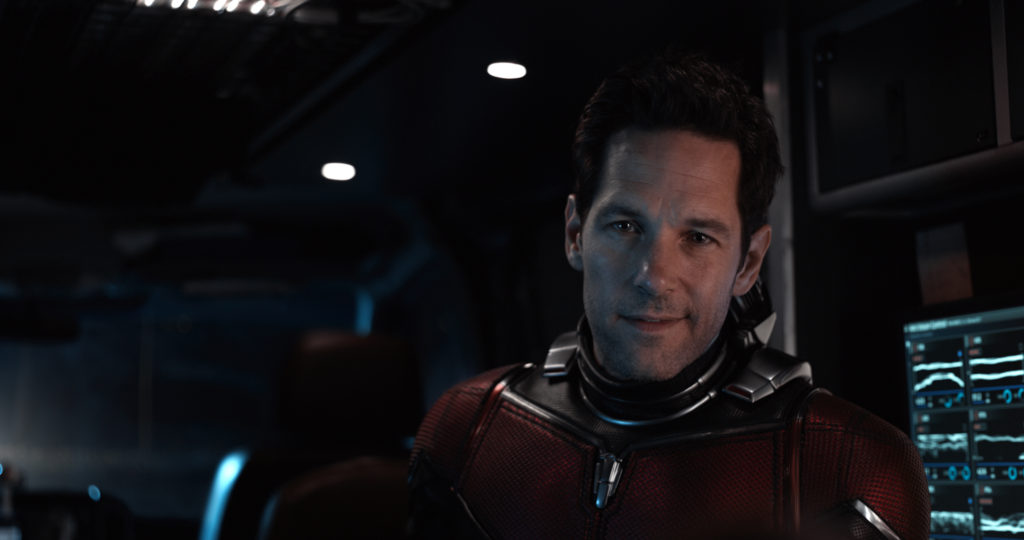 His costume was updated for this movie.
:…it's updated a little bit more. The first ant man, the costume was supposed to look as if it was built in the 80s, and so it was a little scuffed up, it had some analogue quality to it. They changed it for Civil War, but now it's changed. I think a mix of those two suits.
His costume isn't the most comfortable thing in the world but it does make him feel like a super hero.
Fun fact: Paul did learn a few of the ant species
"…lately we'll sometimes veer from it a little bit, but always on point with what the scene is about."
After having played the role of Ant-Man a few times, he has a clearer sense of who is his character is.
Fun fact: Paul did not come up with the line "Kelly Clarkson" in The 40-year Old Virgin but he wishes he had because he thought it was really funny.
One of the highlights of our Ant-Man And The Wasp set visit was being able to chat with some of its cast. In addition to interviewing Paul Rudd, we were also able to chat with Evangeline Lilly ("Hope van Dyne / The Wasp"), Abby Ryder Fortson ("Cassie Lang") and Director Peyton Reed. So, be sure to check back every day this week for all of those fun interviews. Did you check out my Exclusive Ant-Man And The Wasp Set Visit Recap?
I love what he has done with this character. My daughter isn't much of a super hero fan (the nerve of her) so she is hard to impress but she LOVED Ant-Man and is really looking forward to Ant-Man And The Wasp, and so am I.
Join the conversation…
Ant-Man And The Wasp flies into theaters everywhere on July 6th!