There's something special about being on set while a movie is being filmed. Even more so, when it's a sequel to a film you really loved and a movie you are really looking forward to seeing. So, you can imagine how stoked I was when I got the invite for a Ant-Man And The Wasp set visit. It was a fun day of watching them film a scene of the movie, stepping on to the set of Hank Pym's lab and interviewing some of the cast. With that being said, here are all of the deets.
Filming a scene of Ant-Man And The Wasp
Last time I was on set for the first Ant-Man movie, we were sitting outside on one of the coldest days in Atlanta as they filmed the birthday party scene. It was a day to remember. I am just thankful that this time we were able to watch them film a scene but we did it from indoors. Not only did we get to watch Paul Rudd and Evangeline Lilly film a scene together, they also came by and said hello to us as they got snacks during a break. Actually, when they took us ti the stage where it was being filmed, Evangeline was giving Paul a hard time and telling us stuff about him. I can't wait to see that car scene in the move.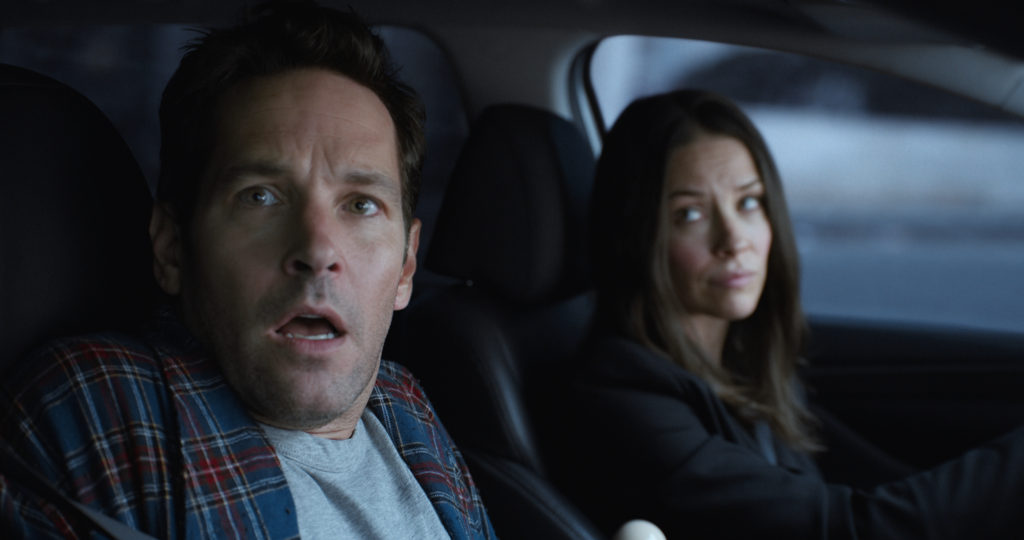 Hank Pym's lab set
During our time on set, we were also able walk through the Hank Pym's lab set. It was really cool seeing how they creatively incorporated small, everyday items (like paper clips and LEGO pieces) that were in turn made into oversized items. One example is this dial I took a picture with below…
Cast interviews
One of the highlights of our Ant-Man And The Wasp set visit was being able to chat with some of its cast. We were able to interview Paul Rudd ("Scott Lang / Ant-Man"), Evangeline Lilly ("Hope van Dyne / The Wasp"), Abby Ryder Fortson ("Cassie Lang") and Director Peyton Reed. So, be sure to check back every day this week for all of those interviews.
While we were on set, we had the chance to chat with with Executive Producer Stephen Broussard and Production Designer Shepherd Frankel. Here are the highlights from our conversations:
The film takes place kind of roughly since the last time we picked up with these characters, which would have been Civil War, Scott Lang in Civil War. – Stephen Broussard
It's the kind of movie where stuff just keeps going wrong and it gets worse and worse…the night gets worse and just when you think you're about to get out, it all sort of keeps coming back on you. – Stephen Broussard
It's a movie about fathers and daughters and parents and children and there's all these parallel relationships. – Stephen Broussard
This takes place in real world environments because Hank's on the run and the whole movie's a little bit of a chase movie. – Shepherd Frankel
Look for Easter Eggs in the movie – Shepherd Frankel
Join the conversation…
Ant-Man And The Wasp flies into theaters everywhere on July 6th!