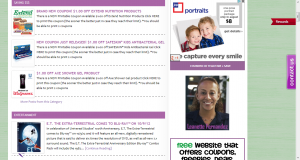 As you may or may not have noticed (hopefully you did because that would mean you are paying attention to what's gong on here…LOL) there have been some changes made to the Teache2Save.com homepage design (as pictured above).

We wanted to make it easier for you to navigate by category on our site, which is why in addition to having the categories listed a tabs along the navigation bar, the posts are now listed on the actual homepage under the following category headings as well.
Saving $$$
Entertainment
Travel
Life
Reviews
Giveaways
Recent Posts (which will have all the posts listed in the order that they were posted)
Deals
Freebies
However, not all of the categories are listed on the homepage as you scroll down BUT they are still on the navigation bar along the top of the page as pictured below.


About
Saving $
Entertainment
Home
Travel
Reviews
Life
PR/Advertising
Coupons
Stores
Deals
Freebies
Reward Programs
Check This Out
Helping Others
Faith
Plus those categories have sub-categories to help you find exactly what you are looking for




If you have any questions, I am always happy to help. Hope you enjoy TeachMe2Save.com!!!