My family and I were invited to experience the Miami Seaquarium Penguin Encounter. However, all opinions are my own.
It seems like this summer is flying by. So with the few short weeks I have left to spend with the kiddos, I want to make sure that we're doing some really cool things and creating some really nice memories together. If you feel the same way you should definitely check out the Penguin Encounter at the Miami Seaquarium.
My kids and I got to experience the Penguin Encounter and really enjoyed getting to know about the African penguins at Penguin Isle and getting the chance to interact with them.
Our penguin encounter was scheduled for 1:30 p.m., so we arrived earlier that morning to make the most of our day there. With our tickets, we were able to enjoy a full day of shows and exhibits.
Of course, the kiddos wanted to touch the sting rays.
Everyone was given the chance for some one on one time with the penguin as they snapped some photos of us. The penguin I interacted with was playful and kept trying to go behind me.
My son could not get enough of the penguins! He loved touching them and speaking to them in a baby voice (which the penguins love). He also kept asking questions which the staff gladly answered.
My daughter on the other hand was a little hesitant at first so I had to be there with her.
but she finally came around…
After the photo opp, we were able to interact with them (and my son took full advantage of that time).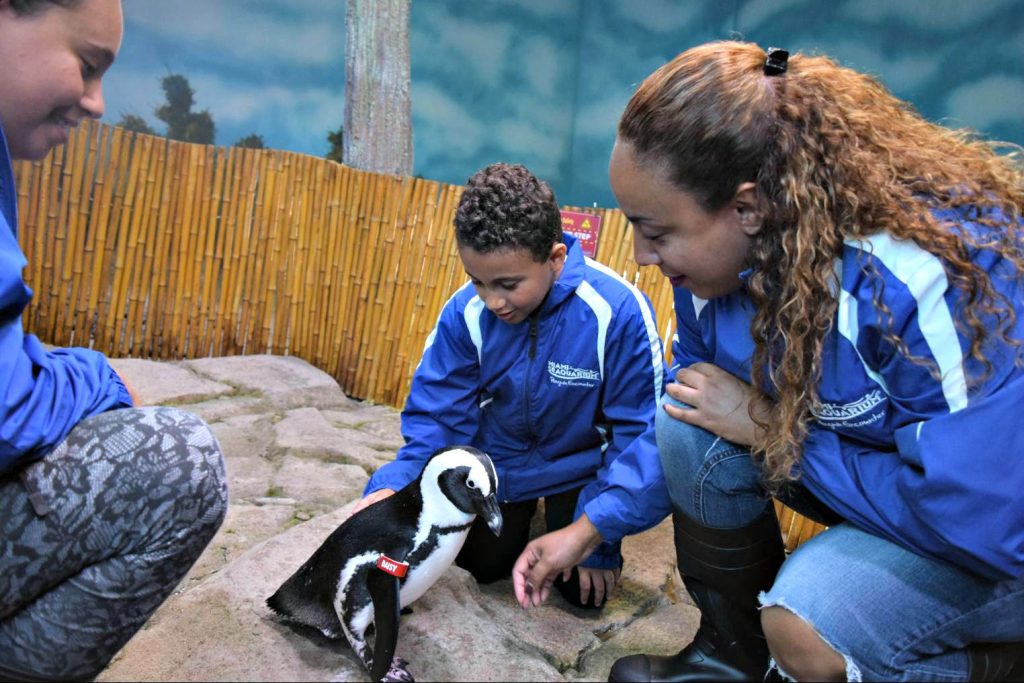 Tips
No need to dress up in cold weather apparel because these penguins aren't in freezing temps and the Miami Seaquarium provides Jackets and boots for you to use during the encounter. Some of the people in our group were wearing shorts and they seemed fine.
You aren't allowed to take your cameras into the penguin exhibit, so I suggest you purchase the penguin encounter photos they provide. If you do, they also include the photos you take when you enter into the Seaquarium.
Lockers are provided for your bags. If you have jewelry on, you will be asked to remove it (to prevent injuring the animals) so if there is something you don't feel comfortable leaving in the lockers, I suggest you leave it at home.
For more information about Miami Seaquarium's Penguin Encounter, click here.