As I sat in one of the D23 Expo Halls and got to see a sneak peek of the film, Moana, every single one of us were excited about the film's release on November 23rd. Of course, the room was also full of excitement because Dwayne Johnson (a.k.a "The Rock") was there for his role as Maui in the film. But who was doing the voice of Moana? Although she had not yet been officially announced, they had found the perfect young lady for the role…Auli'i Cravalho.
While in LA for the Pete's Dragon World Premiere, we were surprised with an opportunity to meet Auli'i Cravalho and chat with her a bit about her work on the film. Her mom, Puanani Cravalho, was also part of the interview and she had us cracking up!!! I love their relationship and I am hoping to be able to reconnect with them both during my upcoming trip to LA for Moana's Red Carpet Event (be sure to check back for all the deets next week).
Meet Auli'i Cravalho … a.k.a. Moana

Auli'i is polynesian. She was born and raised on the island of Hawaii, speaks the native language and she attends an all Hawaiian school where you have to be Hawaiian to be admitted.
As a Polynesian, they believe that, that everything is connected.
When she found out she got the role, the first person she called was her mom. Although they weren't allowed to tell anyone else for a few months after that, Auli'i didn't mind too much because she at least had her mom to talk about it with.
They received banana bread when everyone found out she had gotten the role. Aside from that, everything has been pretty normal for her.
Auli'i Cravalho didn't audition for this specific role, her and her friends put together an audition video to be the entertainment for a nonprofit event on the island. They didn't get it but the casting director for Disney saw that audition and contacted her mom about having her audition for the role of Moana.
Auli'i didn't do any of the recordings with any of the cast,she actually had just met Dwayne 2 days prior to our interview. She went on to say that he loves his character, Maui, very much.
She may pursue a career in acting, as a lawyer or maybe in science.
Pete's Dragon was her first red carpet experience. * I actually snapped a picture with her at the premiere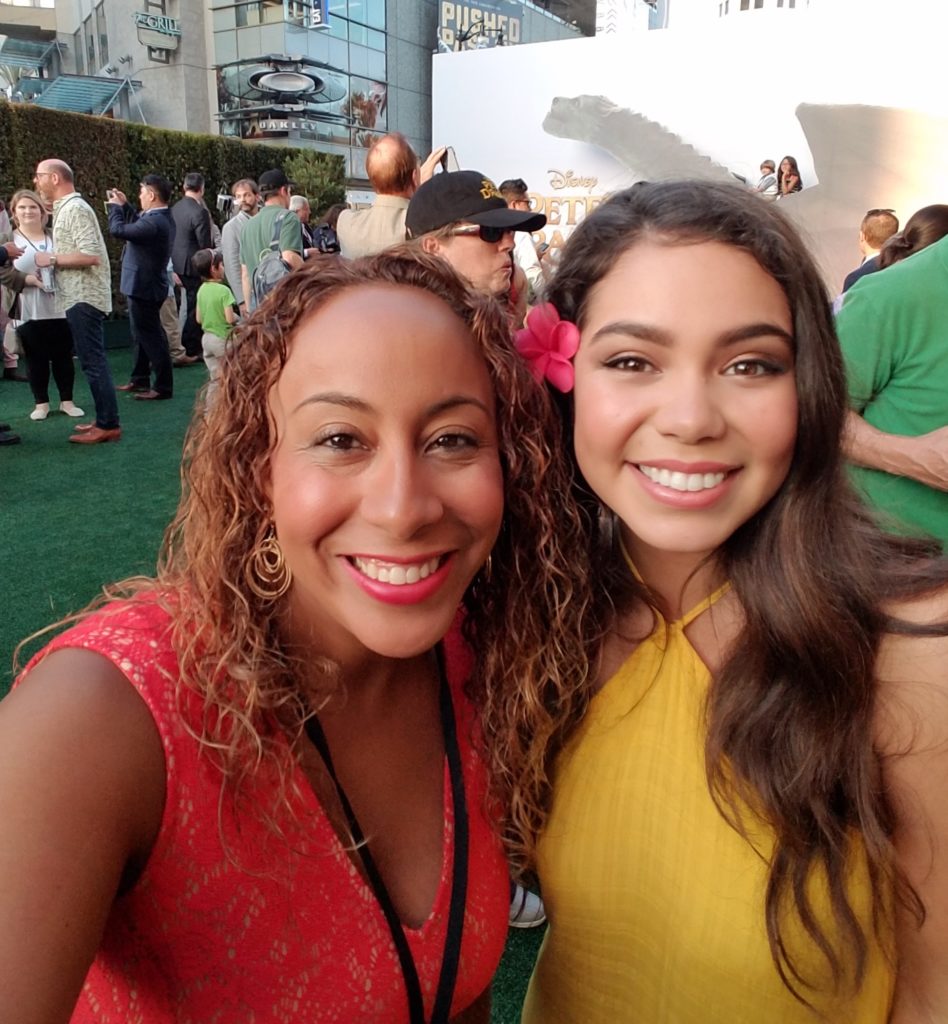 More about Moana
Three thousand years ago, the greatest sailors in the world voyaged across the vast Pacific, discovering the many islands of Oceania. But then, for a millennium, their voyages stopped – and no one knows exactly why. From Walt Disney Animation Studios comes "Moana," a sweeping, CG-animated feature film about an adventurous teenager who sails out on a daring mission to save her people. During her journey, Moana (voice of Auli'i Cravalho) meets the mighty demigod Maui (voice of Dwayne Johnson), who guides her in her quest to become a master wayfinder. Together, they sail across the open ocean on an action-packed voyage, encountering enormous monsters and impossible odds, and along the way, Moana fulfills the ancient quest of her ancestors and discovers the one thing she's always sought: her own identity.
Stay Connected to Moana: