This past Saturday I attended the Tribeca Film Festival for the screening of Marvel's The Avengers, besides getting to see the movie (which is a MUST SEE) and seeing amazing actors (more info. in another post soon) it was a really special night because they made it a celebration of our everyday heroes from police agencies, fire departments, first responders on 9/11 and various branches of the U.S. military.

2 of our local heroes honored me by taking a picture with me…




Then we were able to get a group shot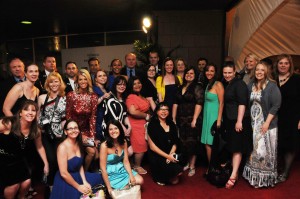 After the movie (which did I mention was awesome!), I was walking out of the theater when I see a cute little boy dressed up as Captain America and it made me immediately think of my 3 year old who loves super heroes.




Little did I know, when I saw him and his father later on outside, that they were the father and son I posted about previously HERE. This video captured a Military Dad returning home from the war, disguised as Captain America, to surprise his son on his birthday. If you haven't already seen this video, you should check it out (with some tissue near by)

Click on "Read More" to Watch it & for more info. on the movie…



Marvel's The Avengers will be in theaters everywhere on May 4th!!

If you want to stay up to date with Marvel's The Avengers (besides the info. and images you can get here) you can also "Like" Marvel's The Avengers on Facebook and Follow Marvel's The Avengers on Twitter. Also, to read more about our NY Avengers weekend and interviews, you can follow along using the hashtag #TheAvengersEvent

I was invited to New York as a guest of Marvel and most of my expenses were paid. However, ALL opinions are my own because I would have it no other way.