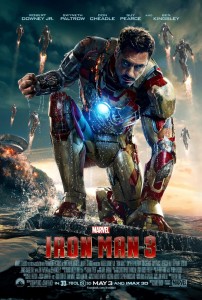 So…I can finally share with you that while I was in LA for the Oz The Great & Powerful Red Carpet Premiere, we had chance to see the newest Iron Man 3 trailer (which is now available for everyone to watch and will also be appearing before the Oz The Great & Powerful when it hits theaters starting 3/8).  Plus, we also got to watch never before seen footage of the film and I must say that Iron Man 3 is AWESOME!!!! I just don't know if I can wait until May 3rd to watch it.

As if that wasn't enough, we had the privilege to meet with the President of Marvel, Kevin Feige, because he heard we were going to be there and he wanted to meet with us to discuss Iron Man 3.  How cool is that?

Here's a little bit of our conversation with him:
On Iron Man 3's focus
Kevin: In coming off the heels of Avengers, we wanted to focus on Tony. This time we wanted to return to Tony's world…we wanted to remind the audience that yes the suits are cool, but it's his intellect that is really his super power…If you remember, at the beginning of Iron Man 1, he's in a cave and he doesn't have access to anything and he ends up building his first Iron Man suit. So what we wanted to do in this movie was put him in a similar position; Take away everything from Tony and see how he can fight the villain back…. This movie is the movie that reminds him he's super, even out of his suit. He just has to sort of figure that out.

On Marvel making family films and films that appeal to women
Kevin: We want these movies to play for everyone, we think they are for everyone…part of what we love about our characters is they're human, they're flawed…we try to make it as emotionally truthful as possible…The human interaction should be as real as possible and I think that appeals to people who might not just love the explosions and the loud noises and the clacking and the repulsing.
On Tony Stark's & Pepper Relationship
Tony's been with the same woman the whole time, and the relationship just grows and gets deeper and deeper…The one thing that matters most is Pepper….The chemistry between Robert and Gwyneth is spectacular.
On Iron Man 3 being Family Friendly
Kevin: All of our movies are PG-13. For us, there are things you can do if you are going by the letter of the law in a PG-13 movie. There's a level of violence you can add, there's a level of sexuality you can have, there's a level of language you can have. We never go anywhere near that, top of that. Because we don't want to. Because that's not what our characters are about.

Jon Favreau (First 2 movies), Joss Whedon (Avengers) and myself, we all have kids and we want to be able to take our kids to these movies and enjoy them.
On Avengers 2
Kevin: I showed the film to Joss Whedon, who is our writer-director of Avengers and who is currently working on Avengers 2, and he saw the finale of this and he goes, "what am I supposed to do now? [LAUGHTER] What am I going to do in Avengers 2?"
On Marvel working with Disney
Kevin: I'm obsessed with Disney and with Disney theme parks. When I was first told by the heads of Marvel that they were thinking of selling the company. I pulled out my wallet, I got the annual pass, the Disney DVC membership, all of that stuff, because I was just obsessed with it. I thought it was great.

They were very great in early meetings we had with them. They said, like Pixar, we like what you're doing. We want you to keep doing what you're doing…And that has- that has certainly held true. They've let us make the movies we want to make the way we make them.

Plus…all of the marketing that they bring to it, the passion that they bring to it and tapping into everything that a company as huge as Disney can do. But at the same time, what I love most about them is despite it being the biggest entertainment conglomerate on earth, it can be very personal.

It is clearly a family here with Disney and they put everything into it when the movie comes out.
Now check out the newest trailer for Iron Man 3


Don't forget to stay connected to Iron Man 3 when you "Like" IRON MAN 3 on Facebook, "Follow" Iron Man 3 on Twitter or visit their website