Sitting down with Cars 3 Director Brian Fee and Producer Kevin Reher was a real treat. Not only did they share "Easter Eggs" with us from the film (that I have shared below) but they also shared some heart felt stories on how the story of Cars 3 came to be and how they were able to bring that all to life (not literally of course because it is an animated film, but you get it). It was a fun interview and a great start to our Cars 3 press day.
Cars 3 FUN Facts from Director Brian Fee and Producer Kevin Reher
They began working on the film 6 years ago.
Old recordings of Paul Newman speaking were used for Doc's dialogue.
"Well the Newman Foundation was very generous with us…we let them know that this wasn't just a marketing trick that this was really integral to the story, and we had all these recordings of open mic kind of thing that John had recording when he was doing Cars One. And so we had a transcript of all this and tried to fashion the story- what was the story- what would serve the story- what line could help us serve the story. And it's pretty emotional when you hear it- and then we used the old Doc line, "you think I quit, they quit on me", which mirrored what had happened to McQueen. – Kevin Reher
"Yeah we originally tried a sound-alike because you kind of want to write whatever you want to write, right? It just wasn't working, it just was no magic and then we decided all right, we have to find the lines, cross our fingers [LAUGHS] that we've got the right lines to help us tell the story. And so it was just spending a lot of time and finding when we can give Doc something to say. " – Brian Fee
"whenever an actor says can I try something, the answer is always yes, it may not work, but or it may just be the best thing. And those surprises when stuff got better than I would have ever expected. So we try to look for those opportunities from everybody on the crew." – Brian Fee
Lea is "actually on the sound track during Riding on the Freeway of Love with horns and backup singers because she's a singer
Cruz's character was originally a male.
They rewrote the backstory for Cruz because of Cristela.
"…we went to her standup act and we were already in love with her humor and her liveliness, she's just has this infectious laugh and she just she starts talking and you want to hang out in her. There's a part in her comedy act where she stops telling jokes and she gets really serious and she talks about her mother (who passed away), very touching stuff for her. And there's such a soul in her voice when she stops telling jokes, and that's when we knew, she's got to be the right one. And then we ended up rewriting the character because Cristela had a story about growing up wanting to be a comedian in a border town in Texas and her mother told her, we don't do that, we clean houses…she was trying to protect her, but just the fact that she had to break through that barrier…after we cast her we went back, because we're always tweaking and evolving characters as much as we can, and we rewrote Cruz's backstory with that in mind." – Brian Fee
With a new renderer, "…we can do things that we couldn't do on the first film…we can go wholeheartedly into a sense of realism. We try not to say photo realism because I think photo realism, that would actually be kind of boring, we almost want like a hyper realism. We want to be able to control how you feel but we want you to feel like you can smell the air." – Brian Fee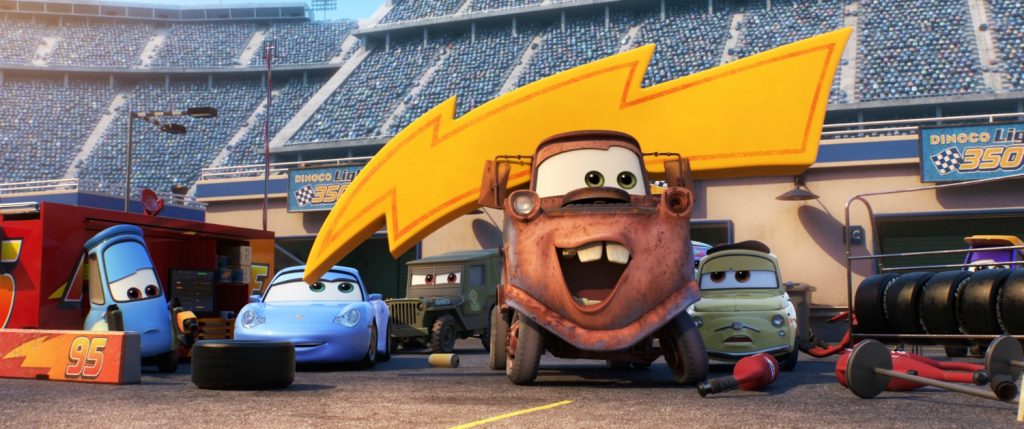 Cars 3 Easter Eggs
Lea is Boo in Orange is the New Black so her first moment is when she goes "Boo" in the film.
When Lea says "you're going to feel the wrath of the Belleville Unified School District", she actually went to Belleville High school.
The license plate on Natalie Certain is Kerry Washington's birthday and New York where she was born
They list Kerry Washington's son and Armie Hammer's son in the production babies at the end if the film.
Speaking of Cars 3, it is now officially in theaters!
Blindsided by a new generation of blazing-fast cars, the legendary Lighting McQueen finds himself pushed out of the sport that he loves. Hoping to get back in the game, he turns to Cruz Ramirez, an eager young technician who has her own plans for winning. With inspiration from the Fabulous Hudson Hornet and a few unexpected turns, No. 95 prepares to compete on Piston Cup Racing's biggest stage.
* I was invited by Disney to the #Cars3Event to share my experience with my followers. However, All opinions are my own.