In a room that holds 7000 people and every seat filled, I could not wait for the Pixar and Walt Disney Animation Studios D23 Expo Panel to begin. Not only was I excited to hear about their upcoming films and see any of their sneak peeks, I was really looking forward to seeing which actors would be coming out on stage to share info. about the project they were a part of. I just knew it would be awesome but at one point during the panel something happened that made it a panel I will never forget.
After watching a hilarious scene of Ralph Breaks the Internet: Wreck-It Ralph 2 involving the Disney princess we love, John Lasseter shared that all of voices for the princesses in that films are being done by the original princesses. He then went on to introduce Jodi Benson (voice of "Ariel") who then introduced another princess voice. Before I knew it, I was a kid again screaming at the fact that all of the princesses I love were actually on stage. I couldn't believe that I was looking at Auli'i Cravalho (voice of "Moana"), Kristen Bell (voice of "Anna"), Kelly MacDonald (voice of "Merida"), Mandy Moore (voice of "Rapunzel"), Anika Noni Rose (voice of "Tiana"), Irene Bedard (voice of "Pocahontas"), Linda Larkin (voice of "Jasmine"), Paige O'Hara (voice of "Belle") and Jodi Benson (voice of "Ariel") all on stage. It was truly special.
Here are some of the other highlights from the panel
Kristen Bell, the voice of Anna in Frozen, came out to introduce the new 23 minute Frozen holiday featurette titled "Olaf's Frozen Adventure" and while they were playing a musical scene featuring Olaf we experienced some "technical difficulties". It's a good thing that Josh Gad was there to sing it for us LIVE!!!!
*Hits the big-screen in front of Disney•Pixar's Coco on Nov. 22, 2017.
While they were on stage, they also spoke a little bit about Frozen 2, which isn't the official name for the film. We were able to watch a behind-the-scenes video showcasing the filmmakers' recent research trip to Norway, Finland and Iceland.
*Slated for theaters on November 27, 2019.
Benjamin Bratt came out and sang the song "Remember Me" from the movie Coco,in which he voices the character of Ernesto de la Cruz, with Anthony Gonzalez, the voice of Miguel.
*Opens in theaters everywhere on November 22nd.
Samuel L. Jackson (Frozone) came out on stage and joined fellow talent to chat about the Incredibles 2
*Incredibles 2 hits theaters everywhere on June 15, 2018.
Sarah Silverman, who returns as the voice of Vanellope von Schweetz in Ralph Breaks the Internet: Wreck-It Ralph 2, came out on stage to share some information about the film and then we got to watch a scene from the movie that was so awesome. I can not wait to see this movie.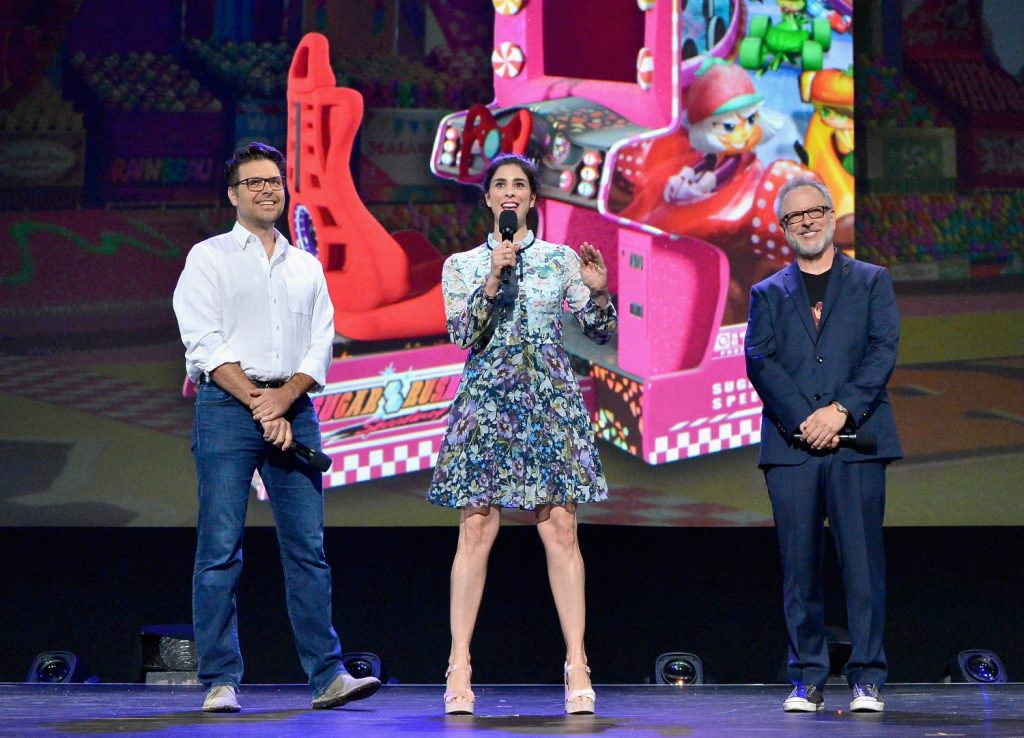 *Hits theaters on Nov. 21, 2018
Fun Facts
The Incredibles 2: The voice of Edna Mode is done by The Incredibles writer/director Brad Bird.
Toy Story 4: Based on a video we watched they "hinted" at the fact that there would be a RV Road Trip in the film.
Ralph Breaks the Internet (Wreck-It Ralph 2): "Yesss" is being voiced by Taraji P. Henson. Plus, it features a Stan Lee cameo.
Want more D23 Expo Highlights and fun facts? Click here.