After having been at the Pixar and Walt Disney Animation Studios presentation at the D23 Expo, I just knew that the Worlds, Galaxies, and Universes: Live Action at The Walt Disney Studios panel was going to be awesome!




Not only did we get a sneak peek at most the of the upcoming slated Marvel, Disney & Lucasfilm movies, we got to hear more about the movies from its actual cast. It felt like I had been clapping through most of it by the time it was over. There were just too many awesome celebrities there chatting with us!

Anthony Mackie (The Falcon) is introduced by Kevin Feige and then we were surprised by Chris Evans (Captain America) who had both flown in the night before from Germany where they had been filming! I loved seeing both Anthony Mackie & Chris Evans again. I say again because I have interviewed both before. You can read my interviews here: Chris Evans & Anthony Mackie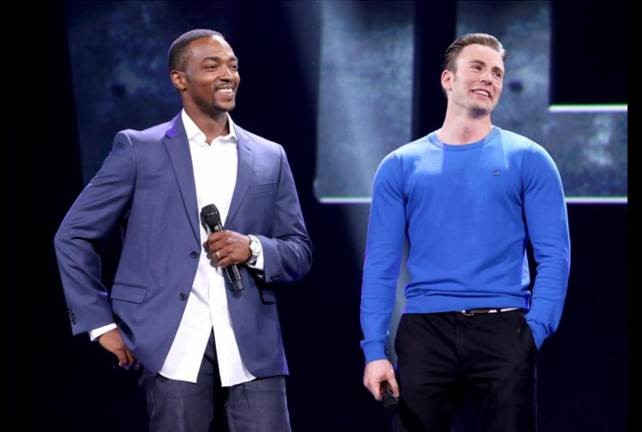 Although I love me some Chris Evans, I have got to say that one of my favorite D23 Expo moments was when Johnny Depp came out on stage dressed as Captain Jack Sparrow.  I would have been happy with Johnny Depp coming on stage but seeing him in full character was awesome and I loved every moment of it!!!!




As though that wasn't enough, Harrison Ford was there to promote Star Wars: The Force Awakens!!!




Chris Pine, Jon Favreau, Ben Kingsley and Bryce Dallas Howard also took the stage. I can see why all 7500 seats filled up and why some of the expo attendees spent the night to guarantee their spot!



There's Lots In Store From Pixar and Walt Disney Animation Studios…

Star Wars: The Force Awakens
* In theaters December 18, 2015


The Finest Hours
* In theaters January 29, 2016






THE FINEST HOURS, which is based on the remarkable true story of the most daring rescue mission in the history of the Coast Guard.
The Jungle Book
* In theaters April 15, 2016




The all-new, live-action epic adventure showcases Mowgli's journey of self-discovery when he's forced to abandon the only home he's ever known. Based on Rudyard Kipling's timeless stories and inspired by Disney's 1967 animated classic, the film features state-of the-art technology that immerses audiences in the lush world like never before
Captain America: Civil War
* In theaters May 6, 2016




Marvel's CAPTAIN AMERICA: CIVIL WAR picks up where "Avengers: Age of Ultron" left off, as Steve Rogers leads the new team of Avengers in their continued efforts to safeguard humanity. After another international incident involving the Avengers results in collateral damage, political pressure mounts to install a system of accountability and a governing body to determine when to enlist the services of the team. The new status quo fractures the Avengers while they try to protect the world from a new and nefarious villain.
Alice Through the Looking Glass
* In theaters May 27, 2016




Director James Bobin brings his own unique vision to the spectacular world Tim Burton created on screen in 2010 with "Alice in Wonderland," in which Alice (Wasikowska) returns to the whimsical world of Underland and travels back in time to save the Mad Hatter. The film, which once again features Johnny Depp, Anne Hathaway, Helena Bonham Carter and the voices of Alan Rickman, Stephen Fry, Michael Sheen and Timothy Spall, introduces several new characters as well: Zanik Hightopp (Rhys Ifans), the Mad Hatter's father, and Time himself (Sacha Baron Cohen), a peculiar creature who is part human, part clock.
Pete's Dragon
* In theaters August 12, 2016




The heartwarming adventure of an orphaned boy named Pete and his best friend Elliott, who just so happens to be a dragon, PETE'S DRAGON is directed by David Lowery, produced by Jim Whitaker, and executive-produced by Barrie Osborne, and also stars Oakes Fegley, Wes Bentley, Karl Urban, Oona Laurence and Robert Redford.
Doctor Strange
* In theaters October 26, 2016




Kevin Feige gave us a glimpse into the world of Marvel's DOCTOR STRANGE, featuring a video greeting by Benedict Cumberbatch, who stars as the title character, followed by a pre-production piece that gave us a taste of the look and feel of the upcoming film.
Rogue One, A Star Wars Story
* In theaters December 16, 2016

Tells the story of resistance fighters who have united to steal plans to the dreaded Death Star.
Beauty and the Beast
* In theaters March 17, 2017

The live-action musical, a retelling of the studio's animated classic, stars Watson, Dan Stevens, Evans, Gad, Kevin Kline, Ewan McGregor, Stanley Tucci, Emma Thompson, Ian McKellen, Gugu Mbatha-Raw, Audra McDonald and newcomer Nathan Mack. The film is directed by Bill Condon. Alan Menken, who won two Academy Awards® (Best Original Score and Best Song) for the animated classic, provides the score, which will include new recordings of the original songs written by Menken and Tim Rice, as well as several new songs.
Pirates of the Caribbean: Dead Men Tell No Tales
* In theaters July 7, 2017




Thrust into an all-new adventure, a down-on-his-luck Captain Jack Sparrow finds the winds of ill-fortune blowing even more strongly when deadly ghost pirates led by his old nemesis, the terrifying Captain Salazar (Javier Bardem), escape from the Devil's Triangle, determined to kill every pirate at sea…including him. Captain Jack's only hope of survival lies in seeking out the legendary Trident of Poseidon, a powerful artifact that bestows upon its possessor total control over the seas.
Queen of Katwe


The Queen of Katwe is based on the inspirational true story of a girl from the poverty-stricken slums of rural Uganda who dreams of becoming a champion chess player. Directed by Mira Nair from a screenplay by William Wheeler based on the book by Tim Crothers, QUEEN OF KATWE stars Nyong'o, David Oyelowo and newcomer Medina Nalwanga.
"Untitled Han Solo" stand-alone film
* Slated for release on May 25, 2018