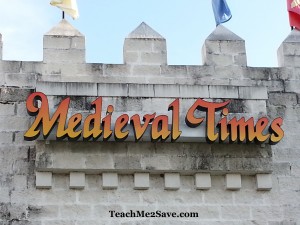 While I was living in California many moons ago, my dad took my friends and I to Medieval Times in celebration of my 12 birthday. Despite the fact that it was many years ago, I do remember loving it. So much so, that the times I have been in Orlando and driven by the sign, I have always said I would love to take my family. Well, while we were in Orlando this last time, we finally got the chance to experience it and I am so thankful that I was finally able to share it with them.



We were excited to be going but our excitement elevated to a whole new level as soon we were in the parking lot and were greeted by an amazing 11th century-style castle. Once inside you feel as though you have been transported into medieval times. There is even a Medieval Village you can walk through and take photos of right outside the castle. They recommend getting there 30 to 45 minutes before dinner starts so that you have enough time to see it all.



As royal guests of the King, we get to watch a royal falconer take flight over all of the guests, see beautiful Andalusians (purebred Spanish horses) and also see the 6 knights of the realm participate in the Battle of Champions…all while we enjoy our four-course meal. Staying true to those times, there are no utensils for you to use as you enjoy a delicious and generous portion of oven-roasted chicken, a spare rib, garlic bread, herb-basted potato, tomato bisque soup and dessert. If you're a vegetarian, vegetarian meals are available upon request.


Each of the 6 Knights have their own color and based on where you are seated, you cheer on the knight representing your section. To help you do so, you are even given a crown in the color of your team and there will be a small flag in that same color with your table setting. We were on the blue team and we were definitely cheering him on. So much so that my daughter was given the blue sash proclaiming she was queen of the tournament. Needless to say, she was smiling ear to ear, which as a parent made me extremely happy.

It was exciting to see them participate in various games and duels. We had a great time (even if the blue knight wasn't the winner). If you haven't gone there already or it's been a while you should definitely check it out, especially when the recently updated to show back in June.



Saving Money Tip: If you have a big group going, you'll get a special rate for groups of 15 or more.
They can check out the Medieval Village.




Disclosure: My family and I were provided complimentary admittance to facilitate my review. As always, all opinions are 100% my own.