If you are looking for American Classics, and you're in Gatlinburg, Tennessee, be sure to stop on by The Park Grill. Within walking distance from the our hotel, Hilton Garden Inn in Gatlinburg, Art and I made our way on over to the restaurant and were greeted by a rustic cabin.
From the moment you step inside, you feel like you are home. Check out this rustic decor…
As if it wasn't charming enough, nice staff and great food made it a place I will be eating at again the next time we are in Gatlinburg. There wasn't one dish I didn't like. Here's a look at some of what we feasted on that evening.
Appetizers
With Pretzel Bites, Texas Potato Skins and Fried Mac & Cheese Bites on the appetizers portion of the menu, it was hard to choose because I wanted them all.
Soups
Once Art saw Shrimp and Crab Bisque on the menu, I knew he would be ordering it. He loved it because the pieces of crab and shrimp were big.
Salad
With over 40 food items to indulge in, including – Smoked Oysters, Fresh Mozzarella, Smoked Ham, Fresh Vegetables, Homemade Dressings and more, there was no way we weren't trying out the Salad Bar.
The Main Course
Being a meat kind of girl, I ordered the Filet Mignon. It was extremely tender and just thinking about it makes me wish I was eating it again right now. It was so good! My husband ordered the Fresh Mountain Rainbow Trout.
There are various sides to choose from Steak Fries, Baked Potato, Sweet Potato with Maple Butter, Horseradish Mashed Potatoes, Sweet Potato Casserole with Coconut, Breaded Onion Rings, Seasonal Vegetable and a Wild Rice Blend.
Desserts
Oh my goodness!!! You have to try the Black Bear Brownie Bash. With brownies, vanilla ice cream, hot fudge and whipped cream it is a dessert everyone will love. I will also say that it is big enough to share (but that doesn't mean you have to…I didn't).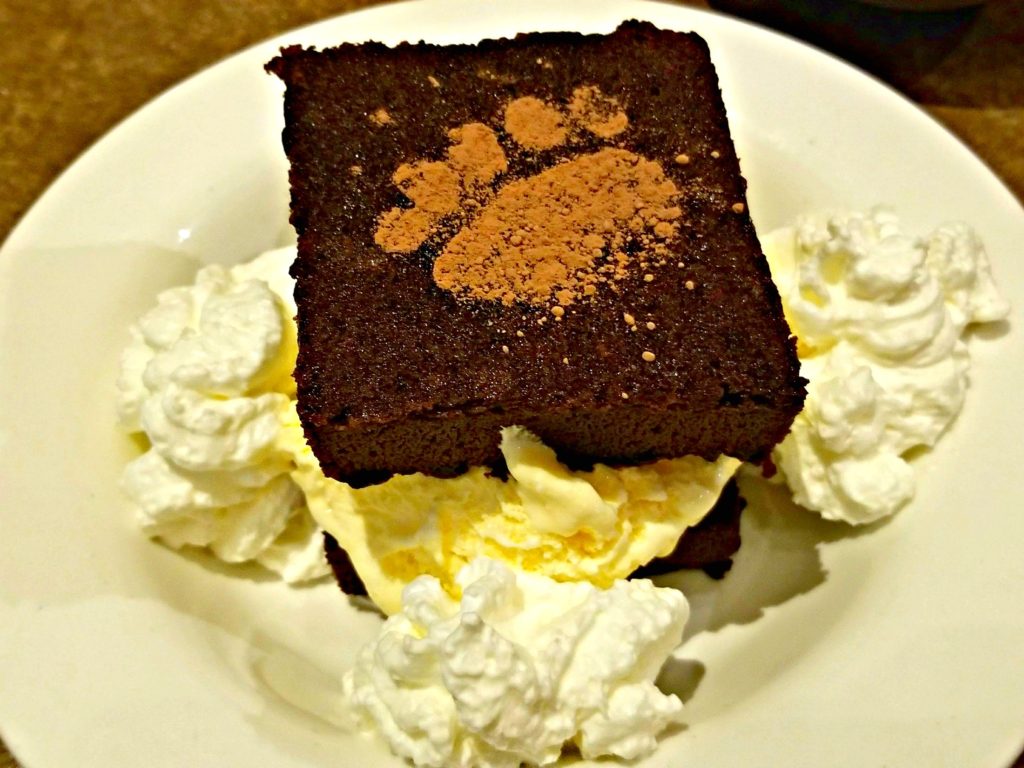 If you want to try a few desserts (or plan on sharing which is a concept I don't understand), you should order the Dessert Sampler. It comes with Jack Daniel's Crème Bruleé, Blackberry Cobbler and Chocolate Hazelnut Mousse. This is what my husband ordered.
With so much to choose from, you are sure to find something you like. If you are anything like my husband and you want to take a look at their complete menu before you go, click here.
The Park Grill is located at 1110 Parkway Gatlinburg, TN 37738. Right next to the Great Smoky Mountains National Park entrance.