The Big Well Museum & Visitor Information Center: History With Heart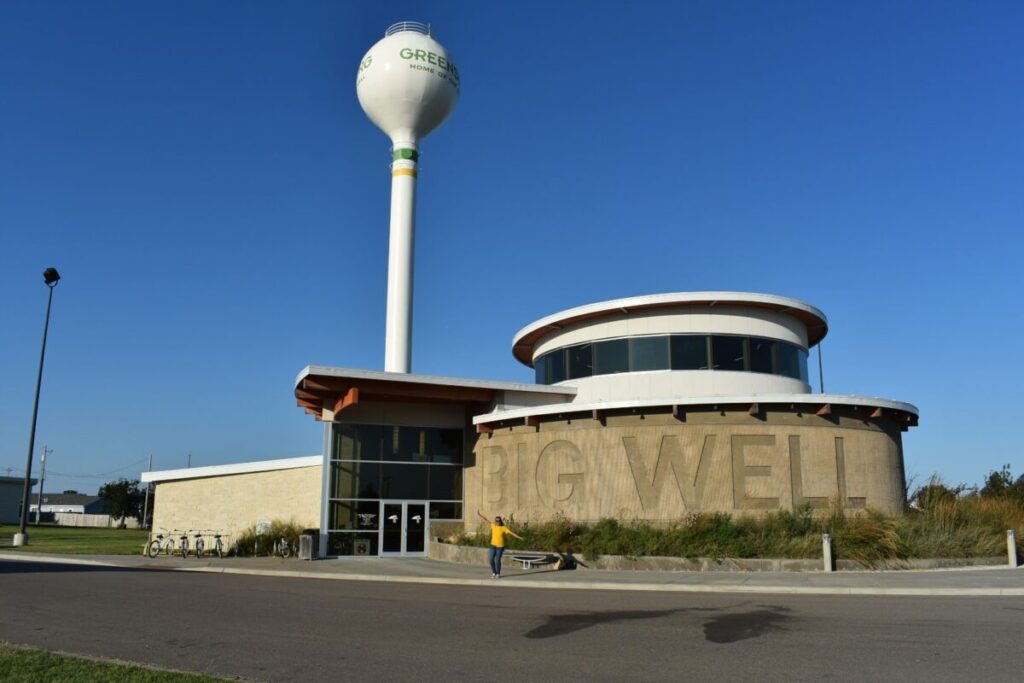 One of the most enjoyable parts of traveling is getting the opportunity to learn new things and take in unusual sights. And the Big Well in Greensburg, Kansas is certainly a sight you don't see every day: Bearing the distinction of being the world's largest hand-dug well, the Big Well is 109 feet deep and 32 feet in diameter, complete with a stunning spiral staircase that visitors can use to make their way down into the Big Well. But it's not just a record-holding curio; the Big Well Museum & Visitor Information Center serves to tell the compelling story of Greensburg, an incredibly resilient small town that had to start from scratch in 2007 after a devastating tornado destroyed 95% of the city. As the Big Well slogan puts it, this is much more than "Just a hole in the ground".
History of The Big Well
Greensburg, Kansas was founded in 1886, with construction on the Big Well beginning one year later. This was a massive project undertaken by small crews who dug the Big Well by hand using shovels, pulleys, and other simple tools. After working from dusk until dawn for roughly a year, the Big Well was finished and supplied water to Greensburg until 1932; it was covered and opened as a historical attraction seven years later. In addition to providing tours to the bottom of the Well, the Big Well Museum that opened in 1939 would later come to display a 1,000 pound pallasite meteorite which was discovered on a local farm ten years after the museum's opening.
A City Bounces Back
In 2007, Greensburg was hit by an EF5 tornado which completely devastated the community. Since then, residents have been putting the pieces back together and rebuilding Greensburg as a sustainable city. Greensburg now runs on 100% renewable wind energy and was the first city in America to use all LED street lights.
Despite the destruction of the tornado, the Big Well survived, and the "Space Wanderer" meteorite was discovered amidst the museum's rubble. The rebuilt Big Well Museum & Visitor Information Center now serves to tell the story of one community's heart and determination, with its museum covering the history of Greensburg from the 1800s through to the present day. A visit to the Big Well Museum & Visitor Information Center is a one-of-a-kind experience and not to be missed!
Planning Your Visit
The Big Well is open from 9-5 PM Monday through Saturday, and 1-5 PM on Sunday. Admission is $8 for adults and $6 for children, seniors and military. To learn more, visit their official website and follow the Big Well on Facebook.