If it was up to the kids, we would be eating pizza all the time. I mean, I really enjoy pizza but after getting it from the same places all the time. I was ready for something new. So, when they reached out to me about checking out Stoner's Pizza Joint's newest location (located at 3712 Davie Rd, Davie, FL 33314), I was all for it…and so was the rest of the family!
With a variety of specialty pizzas, calzones, strombolis, sandwiches, hickory-smoked chicken wings (that are made daily in-house), freshly prepared salads, and freshly baked desserts, Stoner's Pizza Joint has something for everyone. Honestly, after seeing the menu, we wanted to try just about everything and while you managed to resist the urge, we did indulge in quite a few of their items. We couldn't resist…they all sounded so good. Thankfully they tasted as good as they sounded.
We had appetizers to start: Garlic Knots, Stoner's cheese sticks and Pepp-N-Rollie
Our Faves: Their garlic rolls are seriously the best! I also really liked the Pepp-N-Rollie.
For the Main Course we feasted on Nice to Meat you (New York Style crust) Pizza, Cheese (hand-tossed) Pizza, Extra Pepperoni (hand-tossed) Pizza, 20 Wings, Pepperoni Calzone and Pepperoni Stramboli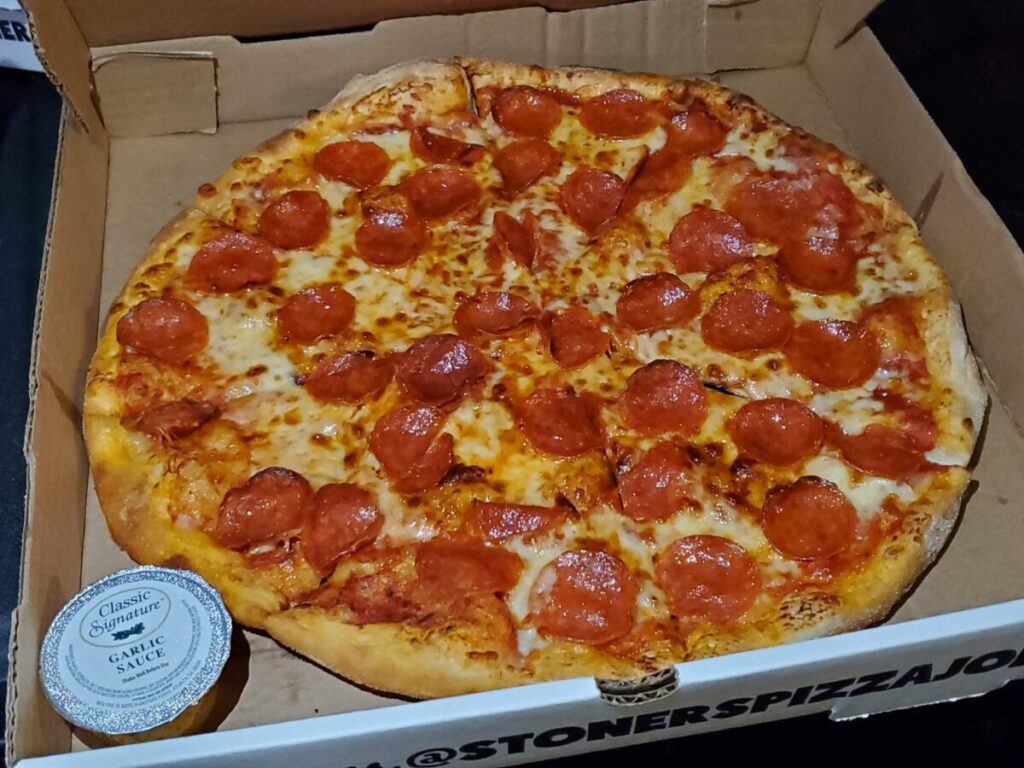 Our Faves: We liked all of their pizzas and the calzone and stramboli were so big!
And because there is always room for dessert we tried both the Stoner's Half Baked (6 cookies) and Cinnamon Rolls.
Our Faves: Those cookies!!!!! The kids said they were the best cookies ever, so I guess they were fans of them.
We really enjoyed Stoner's Pizza Joint because the food was delicious and they use fresh and high-quality ingredients (and you can taste the difference). We will definitely be ordering from them again…especially those garlic rolls and cookies!!!