The Solo: A Star Wars Story world premiere was a night to remember! Not only because I "walked" it with a knee brace, crutches and a wheelchair after getting hurt that morning but also because it was a Star Wars premiere!!!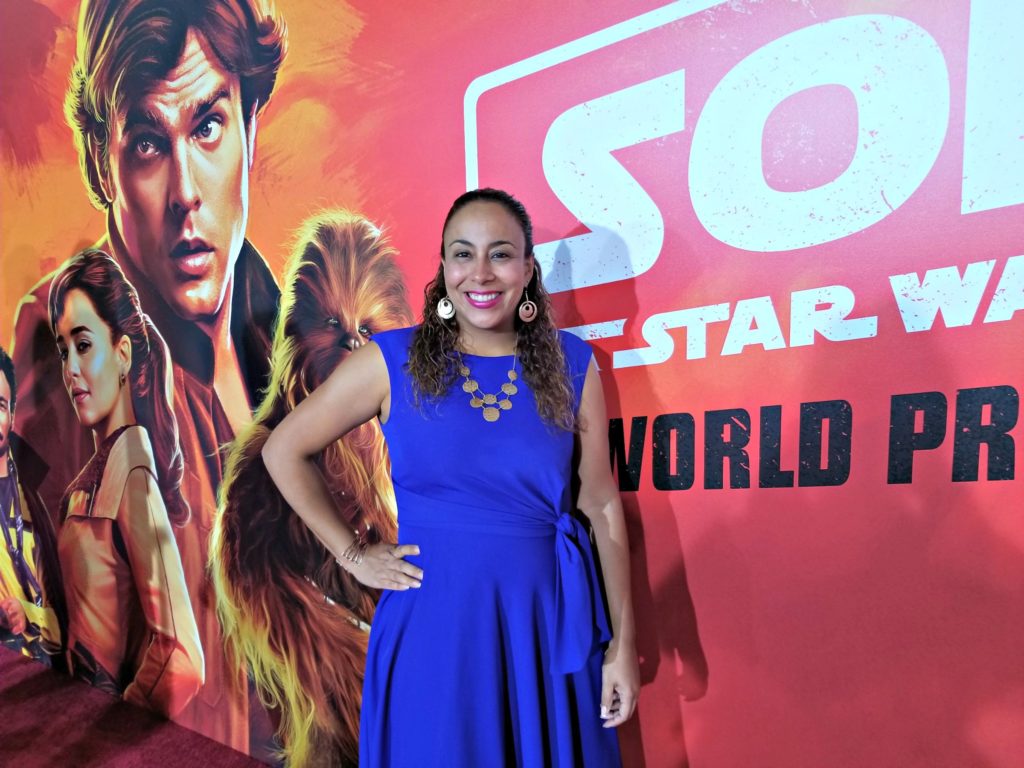 Having been a part of the previous Star Wars press junkets, I was really excited about actually being able to attend the red carpet event, screening the movie and enjoying the after party.
Solo: A Star Wars Story World Premiere
Upon our arrival, we were greeted by the Millennium Falcon. In addition to the Star Wars Fans in attendance, there are also a ton waiting behind the gates to catch a glimpse of celebrities as they made their way onto the red carpet. As you can imagine, people were going crazy with each celeb.
Before making my way to my seat, I was able to snap some celebrity selfies (which you know are my favorite…I wasn't going to let a busted knee stop me from getting my pictures).
Sandra Oh
*I miss her on Grey's Anatomy
Manish Dayal
*He was the first celeb I saw when I got onto the red carpet and he actually came up to chat with me because he spotted my knee brace. Apparently he had knee surgery done about three weeks ago.
Witney Carson
*My daughter and I love watching Dancing with the Stars together, so I had to ask for a picture with her.
Solo: A Star Wars Story Screening
As I waited for Solo: A Star Wars Story to begin, I spotted Mark Hamill just a few row behind me. When George Lucas entered the theater, the room erupted in applause and it was the first time I had seen someone get a standing ovation while making their way to their seats. I really enjoyed the film and you can check back for my official Solo: A Star Wars Story movie review tomorrow.
Solo: A Star Wars Story After Party
After the movie, we made our way on over to the Solo: A Star Wars Story After Party. While I was there, I was able to take the following celebrity selfies.
Alden Ehrenreich ("Han Solo")
Woody Harrelson ("Tobias Beckett")
Director Ron Howard
Joonas Suotamo ("Chewbacca")
Jon Favreau
Britt Robertson
Stephanie Sigman (from the show SWAT)
Don't forget to check back in over the next 2 weeks for my Solo: A Star Wars Story cast interviews and that it opens in theaters May 25th!
Board the Millennium Falcon and journey to a galaxy far, far away in SOLO: A STAR WARS STORY, an all-new adventure with the most beloved scoundrel in the galaxy. Through a series of daring escapades deep within a dark and dangerous criminal underworld, Han Solo befriends his mighty future copilot Chewbacca and meets the notorious gambler Lando Calrissian, in a journey that will set the course of one of the Star Wars saga's most unlikely heroes