Having seen the show, Ringling Bros. and Barnum & Bailey Presents Out Of This World, twice I was equally impressed both times. Nope. It was better the 2nd time because I was able to see the looks of awe and excitement on the kids faces.
I'm not sure how they were able to do it but they've taken what was already a great and entertaining show and kicked it up a few notches. Actually, I do know. They are doing it all on ice. Which means that they took what was already thrilling and added a whole other level of complexity to it that makes it even better. It also means that you should bring a jacket if you're like me and do get cold.
Each act is so good that it is hard for me to choose my favorite. As it makes its way around the country, I highly suggest that you and your family go and see it.
Before the show, we  were able to meet some of its cast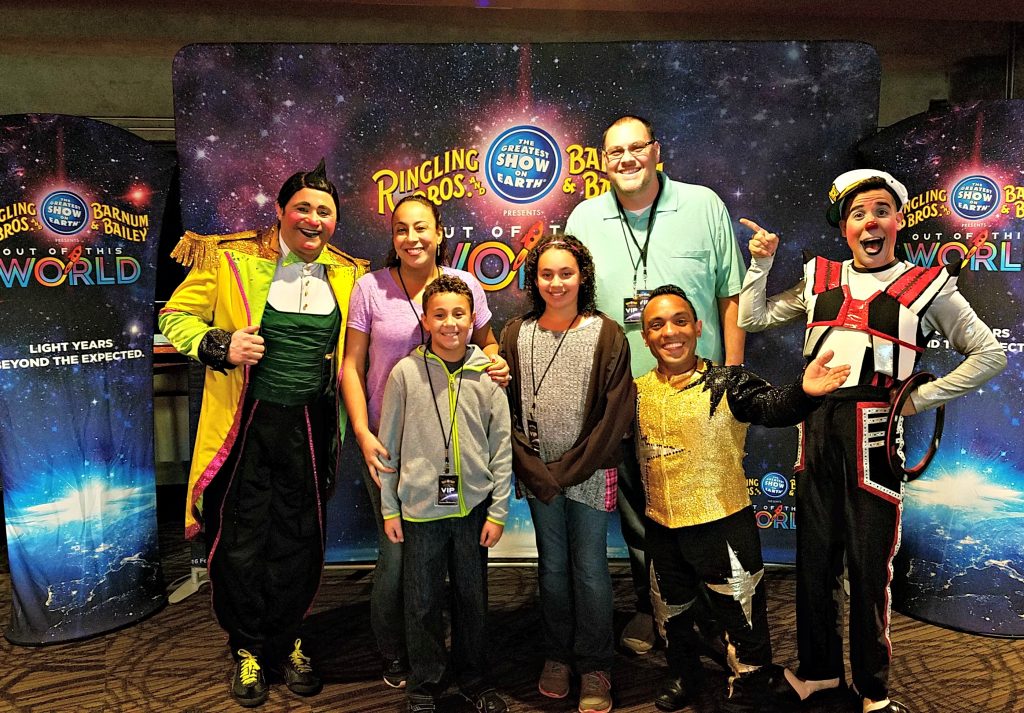 South Florida, Barnum & Bailey Presents Out Of This World is here through January 15th, 2017. Not only do I have a discount code for you to buy a family 4 pack of tickets, I am also giving always 4 tickets. All the deets are below.
Discount code
Get 4 tickets for only $54 when you use the code EXPLORE at ticketmaster.com or by calling 1‐800‐745‐3000
*Good for Friday, Jan 6th 7pm; Saturday, Jan 7th 1pm; Thursday, Jan 12th 7pm; Friday Jan 13th 7pm; Saturday Jan 14th 11am, Sunday Jan 15th 11am. Not valid on premium seating. No double discounts. Ticket pricing is subject to supply and demand. Restrictions, service charges, handling and facility fees may apply.
Giveaway
How would you like to win 4 tickets to Ringling Bros. and Barnum & Bailey Presents Out Of This World on Sunday, Jan 15 at 11 AM? Enter for a chance to win below
*Entry is open to South Florida Residents, 18 years or older. You must be able to attend the event on the date and time specified (Sunday, Jan 15 at 11 AM).
Ringling Bros. and Barnum & Bailey Presents Out Of This World – South Fl. Giveaway

More about Barnum & Bailey Presents Out Of This World
Prepare to blast off on an intergalactic adventure for space-age family fun as the ultimate circus experience launches into the future with Ringling Bros. and Barnum & Bailey® Presents Out Of This World from Jan. 6-15 at the AmericanAirlines Arena. Audiences will take the helm and join the Circus Space Fleet on a heroic quest of good versus evil that will let imaginations run wild with unexpected surprises and thrills at every turn.
In Out Of This World, audiences will be riveted by an interactive, action-packed storyline filled with space-age family fun and technology, which deepens their connection to the performers. Through the lens of a magic telescope capable of discovering the most spectacular circus stars in the galaxy, they will join the Circus Space Fleet on its mission to bring performers back to Earth, traveling to interstellar worlds of sand, water, fire and ice.
Blast off one hour before the show launch at the Starseeker's Early Access — FREE with each ticket purchase. Be part of an immersive experience from the moment you enter the arena until the time the show begins! In this unique pre-show experience your family will have a chance to see performers up-close and snag an autograph or two.