No, I was not dreaming (although it still feels like it) and you didn't read it wrong. I, Leanette Fernandez, danced with the amazing Ellen DeGeneres.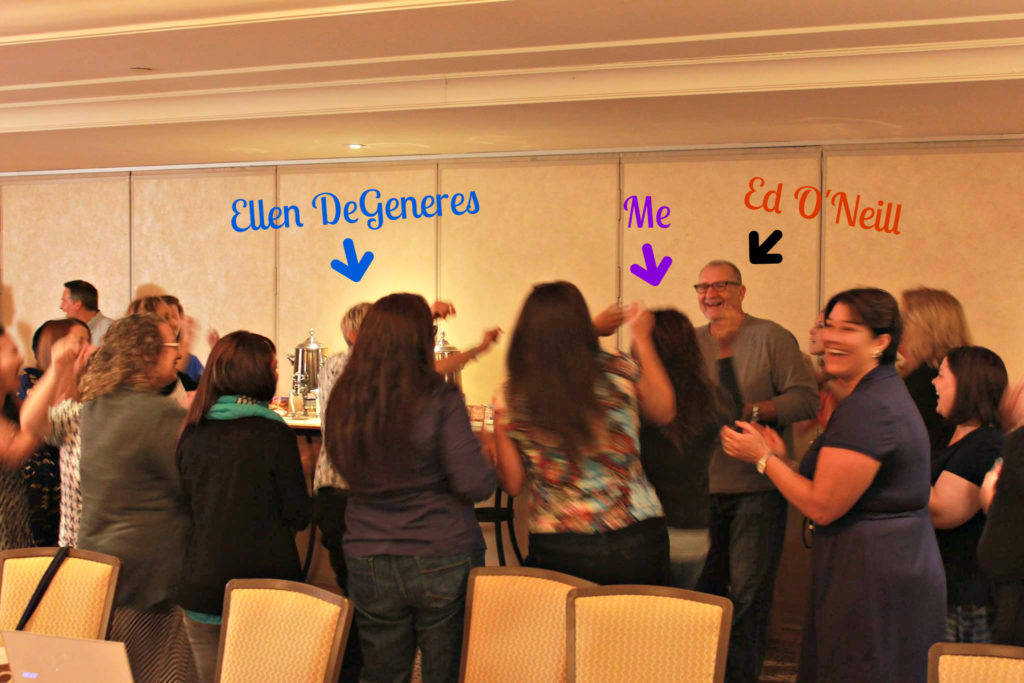 Psyched was an understatement for describing my state of mind when I found out we would be interviewing Ellen DeGeneres for her fabulous role as Dory, in Finding Dory (in theaters 6/17). After all, it is Ellen DeGeneres and dancing with her is on my bucket list. I had no idea how I was going to make that happen but I was hopeful.
Ask and you shall receive.
At the end of our interview (which you can read more about on the blog tomorrow), I nervously asked if she would be willing to dance with us. Her response was that Ed O'Neill had actually mentioned wanting to dance on their way into the room. She was kidding, of course, but she then agreed. Here's how it went down:
Me: We just wanted to know if we could do a little dance with you guys?
Ellen: A dance? We have music? Or are we just gonna dance?
Me: We can make music, or whatever it is you'd feel comfortable with
Ellen: Ed said to me before we walked in here, "I hope we dance." [LAUGHS]
Ed: Can you believe that? [LAUGHS]
Me: Can we make this happen?
Ellen: Whatever you wanna do. What song are we gonna? Are we all dancing?
Me: we are going to dance it out
Ellen: Oh, we're dancing it out.
I was stoked (and super nervous). Although some parts are a bit of a blur, I know that I jokingly told her that I had stretched just in case she had said yes.
Once the music started (Rock your body by Justin Timberlake), I got up ready to dance and so did she. We even got Ed to do a little dancing. Yep, I was encouraging him to join us as you can see in the picture below.
I couldn't believe it. I was dancing with Ellen DeGeneres!!!!! I repeat (more for myself because I still can't believe it)…
I. Was. Dancing. With. Ellen!!!!!!!!!!
Once the dance was over, my hands were literally shaking. I could not believe that I had just done something I had really hoped for but never thought could happen. It was seriously such an amazing experience. An experience I'll treasure.
As we sat for a group photo, I thanked her once again for making a bucket list moment happen for me and then she went on to joke about it being a good thing I had stretched after our picture together.
I am all about dreaming big and getting to dance with Ellen is just a reminder that dreams do come true. Just Keep Swimming!