Getting to stay at the Hotel Emma after a day of road tripping through San Antonio in the Kia Niro was a real treat! In addition to being a very beautiful hotel, the staff was nice and the food at their restaurants was delicious.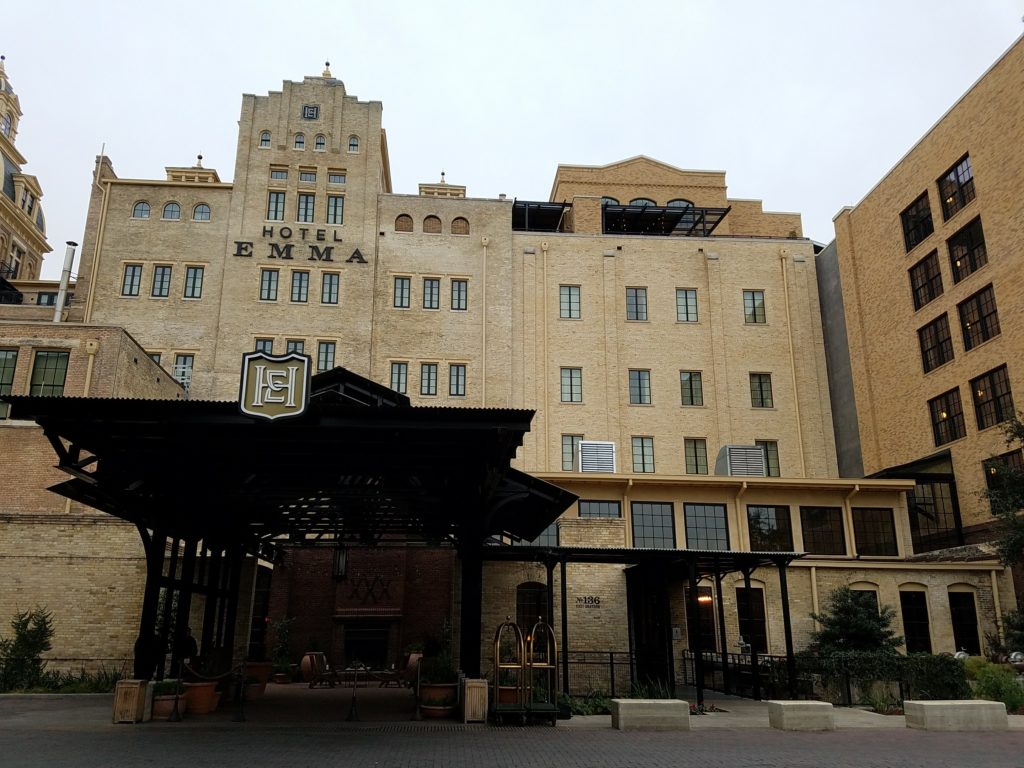 Before we get to the intruiging history of the hotel. Here are some of the highlights of Hotel Emma, in pictures.
The Lobby
The rooms were quaint and spacious
The courtyard
Even with all that, it's the history of the building that adds to its charm. So here's the scoop, well the short version of it anyways:
"Established in 1881 as the J.B. Behloradsky Brewery, the company was acquired in 1883 by the San Antonio Brewing Association, and by 1916 it was the largest brewery in Texas. Pearl was the only San Antonio brewery to survive Prohibition thanks primarily to Emma Koehler."
Here's the real interesting part…
"Emma Koehler was hurt in an auto accident in 1910, so Otto hired a live-in nurse to help… a young, attractive nurse named Emma, nicknamed Emmi. Otto and Emmi began an affair. Emmi had a tall, blonde friend also named Emma, also a nurse. Otto set the two of them up in a little house on Hunstock Ave. and soon was having affairs with both. On November 12, 1914 Otto left the Brewery around 4:00 to visit the nurses. An argument ensued and tall, blonde Emma shot him dead with a .32 revolver. When the police arrived, she said, "I'm sorry, but I had to kill him." Charged with murder, Emma skipped town and traveled to Europe to nurse WWI casualties. To the surprise of all, she returned to San Antonio in 1918 to stand trial. The all-male jury found her not guilty."
For more details, check out the Hotel Emma website.
If you are ever in San Antonio, be sure to check out Hotel Emma.
Want to save this post for later? Click on the photo below to add it to your Pinterest…
Disclaimer: I was sent on an all-expenses paid trip to San Antonio for the Kia Niro National Press Introduction. However, all opinions are my own. Also, some photos are courtesy of Kia.