After laughing way too much watching the first episode of Home Economics, a new comedy premiering tonight on ABC, I had the chance to interview Karla Sousa. You may know her for her role in How To Get Away With Murder but you'll love her as Marina in this new show that tackles the unique dynamic between 3 adult siblings in a humorous way. As a mom herself, Karla relates to this character and hopes the audience will as well. Check out the Home Economics Fun Facts she shared with us below.
Home Economics Fun Facts
When she initially got the role (pre-pandemic), she was 5 to 6 months pregnant, so they were going to write her being pregnant into the show. However, production stopped production, so when they started filming (she had already had the baby) and they gave her characters twins instead.
Topher Grace actually sent her flowers asking her to be his wife (on the show), which raised a few questions from her husband…but it was all good once she explained it all to him.
This season only has 7 episodes, so they were filming for 2 months.
The cast got along so well, that they would do tail gating lunches (where they would have chairs out by someone's car) so that they could practice social distancing.
Karla hopes that the women watching this show feel fully seen through her character.
Home Economics will address some serious topics through the lens of comedy in this season.
Home Economics premieres tonight on ABC at 8:30 EST.
About Karla Souza
Karla Souza is perhaps best known for co-starring opposite Viola Davis in ABC's hit international drama "How to Get Away with Murder," which recently completed its six-season run. She was most recently seen starring as Rosario for Amazon Prime's Spanish language drama "El Presidente." The series, created and written by Academy Award® winner Armando Bo ("Birdman"), tells a story of the 2015 FIFA corruption scandal. She also appeared in the feature "The Sleepover" for Netflix and starred in "Everybody Loves Somebody," which was written and directed by Catalina Aguilar Mastretta.
Growing up, Souza spent four years in France where she was part of a professional theater company that toured throughout the country. She went on to study in London at the Central School of Speech and Drama where, in 2008, she received the CCP Award, given to the most promising actress in London. Following her time in the U.K., Souza was selected to study in Moscow, Russia, with Anatoly Smilianski. She later traveled to present a showcase in New York and subsequently began receiving offers for leading roles in Mexico City.
Souza has starred in three of Mexico's top grossing films of all time: "¿Que Culpa Tiene El Nino?" in 2016, and "Instructions Not Included" and "Nosotros Los Nobles," both in 2013. Born in Mexico City, the mother of two currently resides in Los Angeles.
About Home Economics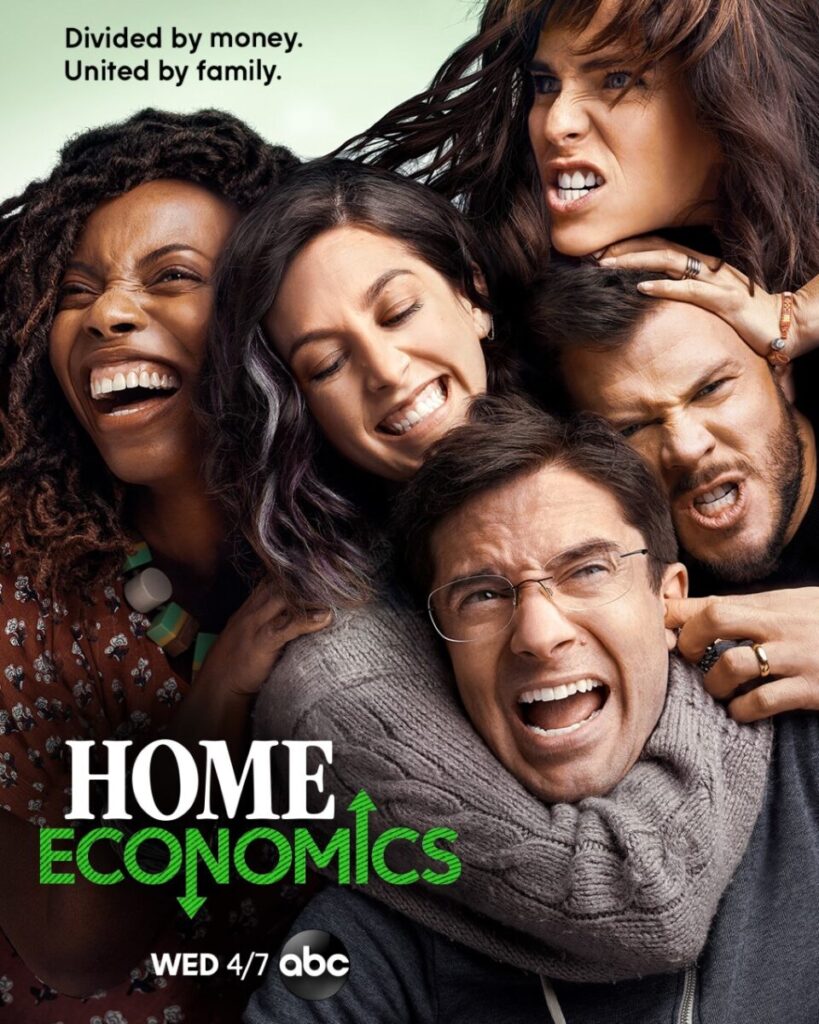 Executive produced by and starring Topher Grace, new series "Home Economics" joins ABC's Wednesday night comedy block on WEDNESDAY, APRIL 7 (8:30-9:00 p.m. EST) on ABC.
From writers and executive producers Michael Colton and John Aboud, the series takes a look at the heartwarming yet super uncomfortable and sometimes frustrating relationship among three adult siblings: one in the 1%, one middle-class and one barely holding on. The comedy is inspired by the life of writer and executive producer Michael Colton.
The series stars Topher Grace as Tom, Caitlin McGee as Sarah, Jimmy Tatro as Connor, Karla Souza as Marina and Sasheer Zamata as Denise. Also starring is Shiloh Bearman as Gretchen, Jordyn Curet as Shamiah, Chloe Jo Rountree as Camila and JeCobi Swain as Kelvin.
Episodes can also be viewed the next day on demand and on Hulu.
Enjoy these Fun Facts? You can check out more Fun Facts about other movies and TV shows by clicking here.