This easy Chicken Parmesan Recipe post is sponsored by Mirum, but all opinions are my own.
Dinner time isn't just another meal for us, it is precious time that we get to enjoy together as a family. A time where my family sets our phones aside and we talk. We talk about our day, funny stories or special memories. It is one of my favorite parts of the day.
There is something special about enjoying a home-cooked meal together which is why, I am intentional about making the time to make it happen, even during this busy season. You know what I am talking about. The season where our days and especially nights are filled with Halloween and Fall Festivities. The kind of season that has us so busy that making meals you and the family can enjoy together happen less and less. Especially on Halloween with all of the trick-or-treating festivities. Even though they're looking forward to the sweets, as parents we want to make sure they get a satisfying and filling meal in before, or after, all the trick-or-treating fun.
Thankfully, making a home-cooked meal can be done quickly and easily, from planning to preparation to serving. You don't have to sacrifice any family time by cooking at home because these meals are so convenient and effortless. I know because I just made this Easy Chicken Parmesan recipe and my family loved it!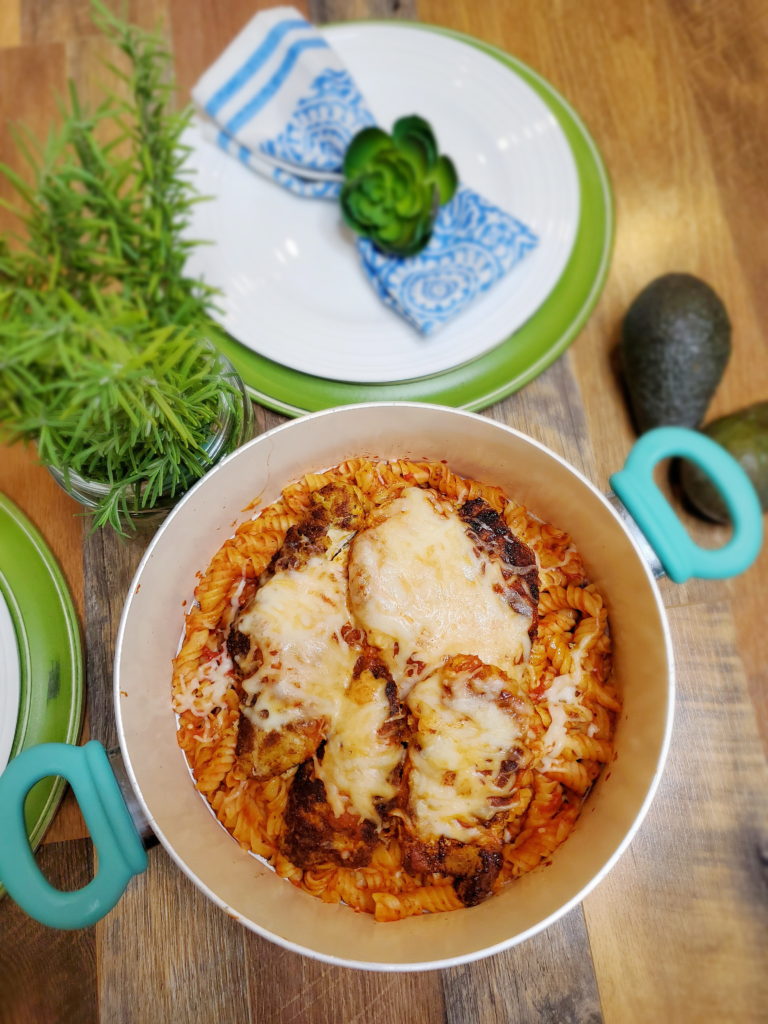 Easy Chicken Parmesan Recipe
Ingredients
1/2 cup of Italian-style bread crumbs
1/3 cup grated Parmesan cheese. divided
1/3 cup Egg Beaters® Original
4 boneless skinless chicken breast cutlets (1 pound)
PAM® Olive Oil Cooking Spray Pump
1/4 cup Smart Balance® Original Buttery Spread
1-1/2 cups water
1 can (14.5 oz each) Hunt's® Diced Tomatoes with Basil, Garlic and Oregano, undrained
1 can (24 oz each) Hunt's® Traditional Pasta Sauce, divided
8 ounces rotini pasta, uncooked
1 cup shredded mozzarella cheese
chopped fresh basil, optional
Directions
Stir together Parmesan cheese and breadcrumbs in shallow dish or plate. Pour Egg Beaters into second shallow dish. Dip chicken cutlets in Egg Beaters and then coat with bread crumb mixture, pressing to adhere.
Spray large stainless steel skillet with cooking spray. Melt Smart Balance in skillet over medium heat. Add chicken and cook until golden brown, about 5 minutes on each side. Remove to a plate.
Pour water, undrained tomatoes and 1 cup pasta sauce into pan; bring to a boil. Stir in pasta, cover and cook 8 minutes, until nearly done. Place chicken on top of pasta. Pour remaining pasta sauce over chicken and continue cooking until pasta is tender and chicken is cooked through (165°F), about 5 minutes.
Preheat broiler to high. Sprinkle mozzarella cheese over chicken. Broil until cheese is melted and lightly browned, 3 to 5 minutes. Garnish with basil, if desired.
Tip: If you're using a nonstick skillet, melt the cheese on the stove top by covering the skillet instead of broiling
The Best Meals Happen at Home
The Best Meals Happen at Home, but they start at Publix, where you can find all that you need in one place for these easy-to-make meal ideas. Plus, Publix customers also have access to deals, digital coupons, savings and more, so be sure to check that out HERE to start saving today. Some of the deals currently available for this Chicken Parmesan recipe are:
Buy 1 Get 1 FREE Hunts (14.5 – 15oz) & Rotel (10oz) Tomatoes
Buy 1 Get 1 FREE Pam(R) Non-Stick Cooking Spray (excludes Organic) (5 – 6 oz)
Discover more recipes by visiting the Best Meals Happen at Home Facebook Page.
Want to save this post for later? Click on the photo below to add it to your Pinterest…