Widely known for his role as Sherlock Holmes, Scott Derrickson (along with many others) knew that Benedict Cumberbatch would be great as Doctor Strange. They were right. The role was meant for him and I can't wait for you to see that for yourself once the movie hits theaters on November 4th!
While in LA fort he Doctor Strange, we were able to interview a lot of its cast. Our first interview was with Doctor Strange himself, or rather the actor who brought his character to life on the big screen (and in a cool way), Benedict Cumberbatch. After our fun interview we snapped a group pic with him
Here's what he shared…
Benedict Cumberbatch getting this role actually started out as a conversation with an LA Times journalist who mentioned who would be great for the role which then sparked his interest.
Although they wanted him for the role, the timing of Benedict's commitment to the theater (performing Hamlet) caused a conflict BUT they really wanted him for this role so they postponed the production and release date of the film (which is a first for Marvel) because they did not want to do it without him.
When asked how he felt when he tried on the Cloak for the first time, Benedict Cumberbatch said "I felt like a kid. I mean it was just amazing. It was the first proper moment when I thought, oh my God, I'm actually playing a superhero."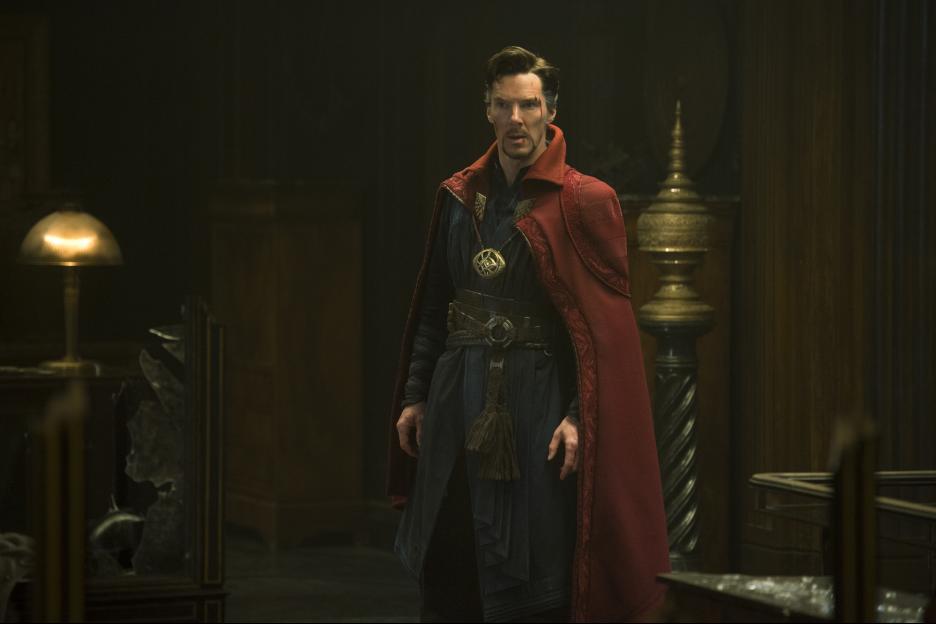 To prepare for the specifics of the spell casting, Benedict trained with Julian, a world class tutter, it's like break dancing from the wrists up.
He was training every day, or every other day to get his body in shape and to be fit enough to do certain stunts. His training also involved Yoga and Martial Arts.
As a kid Benedict enjoying being an audience member of the Marvel's cinematic universe films but he never imagined that he would be a part of it, especially as a super hero.
He went on to share another "pinch yourself superhero moment"…"running down Fifth Avenue with the silhouette of the Empire State Building at one end, going that's the building that people crafted storyboards and built these comics on paper at the very beginning of all of this. I'm running along in red and blue, jumping, pretending to take off on Fifth Broadway. I mean Fifth Avenue. It was amazing. It was amazing. Very cool."
Putting on his costume wasn't too bad, his boots actually took the longest to put on because of the laces.
In terms of the story and his character, Benedict Cumberbatch thinks it would be fun to I have his cloak turn him into some kind of human drill where he gets to go through something.
Fun fact: He doesn't do well with horror films which is why he didn't make it all the way through some of Scott's other films (the director)
More about Doctor Strange
From Marvel Studios comes "Doctor Strange," the story of world-famous neurosurgeon Dr. Stephen Strange whose life changes forever after a horrific car accident robs him of the use of his hands. When traditional medicine fails him, he is forced to look for healing, and hope, in an unlikely place—a mysterious enclave known as Kamar-Taj. He quickly learns that this is not just a center for healing but also the front line of a battle against unseen dark forces bent on destroying our reality. Before long Strange—armed with newly acquired magical powers—is forced to choose whether to return to his life of fortune and status or leave it all behind to defend the world as the most powerful sorcerer in existence.
*I was invited by Disney and Marvel to attend a press junket covering Doctor Strange. All opinions are my own.