Birthday celebrations for your loved ones should be special, so when we were thinking of places we could go to celebrate my husband turning 44 (don't tell him that I told you his age), we thought SeaWorld would be fun. After all, It had been a while since we had been there and we have always enjoyed ourselves there. So, off we went!
It was a fun day that consisted of riding all the rides (well, at least most of them anyway), eating lots of food, and taking lots of pictures.
Because we're in the middle of a pandemic and they are committed to the health and safety of their guests, employees, and the animals in their care. they have incorporated a few changes:
Temperature checks before entering the park
Masks must be work at all times (unless you are eating, drinking, or in the designated relaxation areas of the park).
Hand sanitizer stations throughout the park
Markers on the floor that are 6 feet apart to keep you socially distanced while you wait in line.
There are also no more paper maps, so you can download them using a QR Scanner.
*If you want to know about the safety measures they have put into place, you can click here.
Another change at SeaWorld is the Penguin ride is temporarily closed since there is no way to properly keep everyone socially distanced. However, you can still go and see the penguins exhibit (and they are totally worth seeing). I just wanted to let you know in the event that you are like me and don't read signs. Apparently reading is fundamental because we waited in line for over 30 minutes and didn't find out until we were inside.
Getting to see SeaWorld all decked out for the Holidays was a real treat. I loved seeing all the Holiday decorations as we made our way around the park. Here's a look at SeaWorld at Christmas time.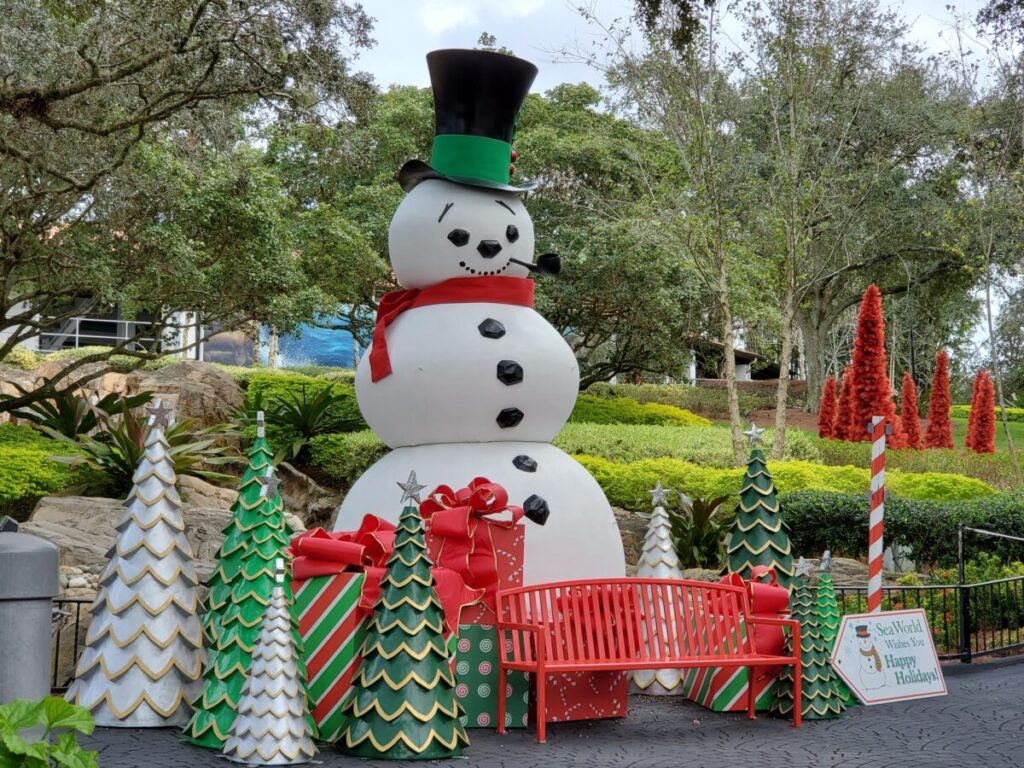 I think they really went all out for the kiddos
They even converted their food stands…some of them were quite clever.
They even have a Christmas Store!
Love Christmas? Looking for some Holiday fun? If so, check out SeaWorld's Christmas Celebration happening on select nights through December 31st, By doing so, you get to experience SeaWorld as a winter wonderland sparkling with holiday cheer! With over 3 million beautiful lights, an ice-skating extravaganza show, and visits with Santa and Rudolph the Red-Nosed Reindeer, you can create unforgettable holiday memories. For more information or to get your tickets, visit their website.