My hubby and I were invited to sail aboard the Norwegian Bliss' inaugural sailing. We had an AMAZING time and ALL opinions are my own. Check out these 5 reasons you'll love the Norwegian Bliss
At the top of my vacation bucket list is a cruise to Alaska and while I have yet to check that off of my list I was one step closer when I boarded the Norwegian Bliss for its inaugural sailing. We were so excited to not only be on board but that we were able to celebrate our 15th wedding anniversary on board the Norwegian Bliss. It was trip we will remember!
5 Reasons You'll Love The Norwegian Bliss
On Board Fun
There is so much to do while aboard the Norwegian Bliss! Yes, you can go in the pool and yes they have an amazing water slide, the Aqua Racer, that actually goes out over the ocean but what I really loved was the Race Track. It's actually the largest race track at sea.
As if that wasn't enough, you can also play mini golf or go to the arcade but there is also Laser Tag on the ship, which was my husband's favorite activity.
Dining Options
For someone who loves food as much as I do, I was over the moon with all of the restaurant options they had aboard the ship. Of course, there are restaurants on board that are included but there are some specialty restaurants I highly suggest you find the time to try.  For an additional fee, you can also enjoy…
Cagney's Steakhouse, I guess you can figure out on your own what they offer by the name but I do have to say that it was so GOOD.

Q

, a Texas smokehouse offering authentic Texas BBQ
Jimmy Buffett's Margaritaville® at Sea

, inspired by the lyrics and lifestyle of Jimmy Buffett.
Teppanyaki

, an authentic Japanese hibachi restaurant that serves great food and offers a fun experience.
Ocean Blue

, the perfect place for seafood lovers. I will say that I am not a seafood lover and still enjoyed my meal there.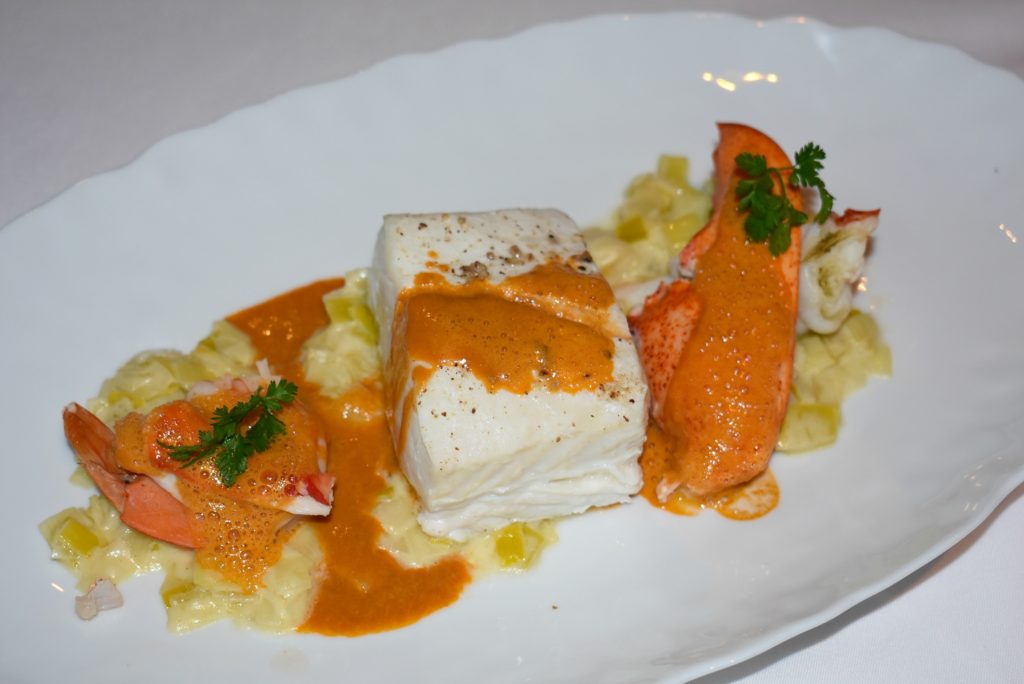 Starbucks

® (you see, they make you feel right at home even at sea).
*Yes, we tried out all of these restaurants and loved them all.
The Spa
There was no way we were passing up the chance to go to the spa, especially when their Spa Thermal Suite offers so many amenities like the Vitality Pool, Aromatic Steam Bath, Salt Room and Snow Room. We spent hours there after our couple's massage and it was glorious.
The Staterooms
They were so beautiful and super spacious! I love that not only did you not feel cramped in the room but that my balcony room also offered floor-to-ceiling glass doors that opened to our very own private balcony. Waking up to that view never gets old.
The Shows
Initially Art wasn't thrilled about the idea of seeing "Jersey Boys" with me but by the end of the musical he was loving it. It was an amazing show that allowed us to see and experience the true story of Frankie Valli and The Four Seasons. They performed all of the songs he loves by The Four Seasons like, "Oh, What A Night", "Big Girls Don't Cry," "Walk Like A Man" and "Can't Take My Eyes Off You" so he was happy I "made" him go with me. In addition to "Jersey Boys", you can also enjoy "¡Havana!" which we also enjoyed while on board the Norwegian Bliss.
Art and I enjoyed every single minute of being on board the Norwegian Bliss. Keeping my fingers crossed that one day we will actually be able to go to Alaska aboard the Bliss. for more information, visit their website.