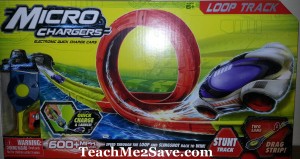 Is your child into cars? If so, they may just enjoy Micro Chargers, electronic quick charge cars. Now add the micro charger car to a loop track that is over 5 feet long for even more fun because it allows them to do stunts with your car and even race a friend.

Simply charge your stunt car (has the red chassis…on the bottom of the car) or your race car (has a blue chassis) for about 10 seconds and watch it do its thing. It will speed on by (about 600+ MPH scale speed), go through the loop and into the sling-shot return towards the finish line.

Plus, if they want to keep things interesting, your kiddos can even connect their Micro Chargers Loop Stunt Track and Time Track to create their own layouts and tracks.

The Micro Chargers Loop Track Set includes one loop stunt race track, exclusive quick charge stunt car, handheld charger and a trading card. It wasn't hard to assemble which was nice.




Check out the video below to see the Micro Chargers in action…


Disclosure: I was provided with a Micro Chargers Loop Stunt Track in order to facilitate my review. No other compensation was provided. ALL opinions are my own.