I love Eeyore! My love for him began in high school…there is just something about him that brings a smile to my face. I'm sharing that because I am super excited to see him in Disney's upcoming film, Christopher Robin. Actually, this weekend I will be flying to LA for some Christopher Robin Adventures. "Oh bother" (I kid. It is no bother AT ALL).
While in LA I will also be learning more Ralph Breaks The Internet (another movie I am very excited about) and learning more about the upcoming DVD & BluRay Features of Avengers: Infinity War (which I can't wait to own). Check out what we have jammed packed into 3 days…
Christopher Robin Adventures



***Screening of Christopher Robin
***Press junket where we will get to interview the following cast members:
Ewan McGregor ("Christopher Robin")
Hayley Atwell ("Evelyn Robin")
Bronte Carmichael ("Madeline Robin")
Jim Cummings (voice of "Winnie the Pooh" & "Tigger")
Director Marc Forster
Do you have any questions for them? If so, let me know and I will try to ask them.
***Attend the world premiere of Christopher Robin.
Follow along using #ChristopherRobinEvent
*In theaters on August 3rd.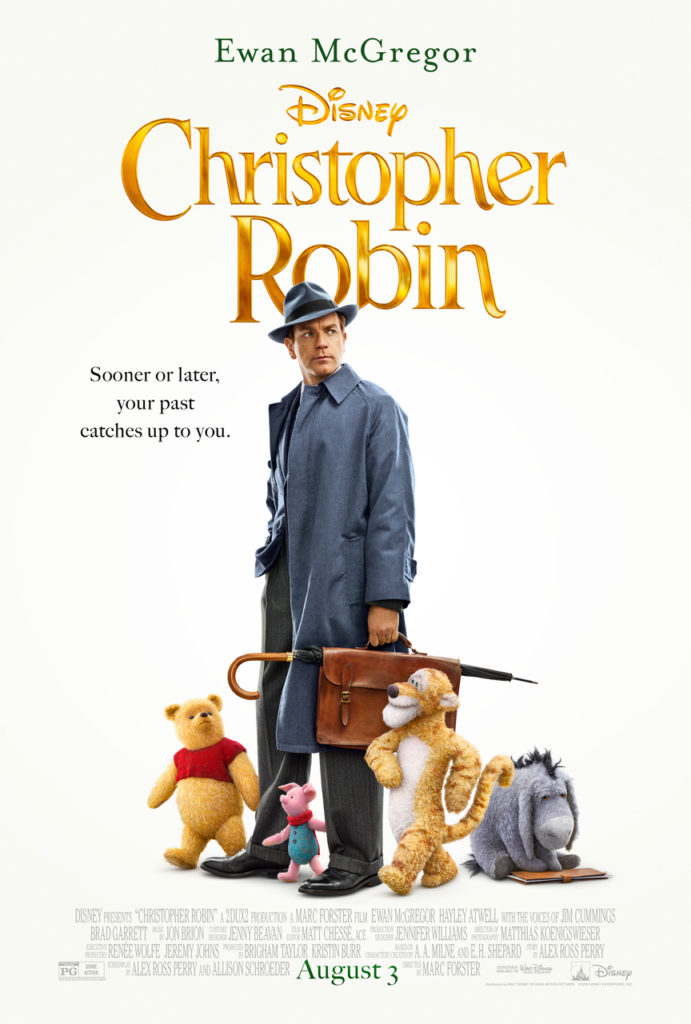 Avengers: Infinity War Adventures
***Visit Madame Tussauds Hollywood to visit the Marvel Super Heroes exhibit and make our own wax Infinity Gauntle (It will be my first time visiting there so I am excited)
***Watch Avengers: Infinity War bonus showcase
***Q & A with Executive Producer Trinh Tran
Follow along using #InfinityWarBluray
Avengers: Infinity War will release on Digital HD 7/31 and Blu-ray & DVD 8/14.
Ralph Breaks The Internet Adventures
***Ralph Breaks The Internet footage presentation with an introduction and Q&A by Director Rich Moore, Director/Writer Phil Johnston and Producer Clark Spencer.
***Ralph Breaks The Internet filmmaker presentations:
THE WEB'S WIDE WORLD – Matthias Lechner (Art Director, environments), Larry Wu (Head of Environments) and Ernie Petti (Technical Supervisor) talk about the daunting task of turning the abstract concept of the internet into a complex, thriving metropolis
POPULATING THE INTERNET – Cory Loftis (Production Designer), Dave Komorowski (Head of Characters and Technical Animation), Renato dos Anjos (Head of Animation) and Moe El-Ali (Crowds' Supervisor) explore the process of creating the inhabitants of the internet, from the "Netizens" to the "Net Users"
STORY DOWNLOAD – Josie Trinidad (Head of Story), Jason Hand (Story Artist) and Natalie Nourigat (Story Artist), explain the unique roles that the story team played not only in developing a new adventure for Ralph and Vanellope, but also in envisioning the ever-evolving world of the internet
OH MY DISNEY DOT COM – The "Oh My Disney" sequence has been a part of the story since the first script and story reels. Co-writer Pamela Ribon discusses the inspiration for the scene, and Ami Thompson (Art Director, characters) and Kira Lehtomaki (Head of Animation) present the work that went into bringing these beloved characters into the world of the internet
Follow along using #RalphBreaksTheInternetEvent
*In theaters on November 21st.