We got to sit down and chat with the youngest cast members of the new hit comedy on ABC, black-ish and I must say that they are an amazing group of kids.

Yara Shahidi (Zoey), Marcus Scribner (Andre Jr.), Miles Brown (Jack), and Marsi Martin (Diane) were all so well mannered and super intelligent, they are very close, their chemistry is great both on set and off. They were a pleasure to meet and chat with.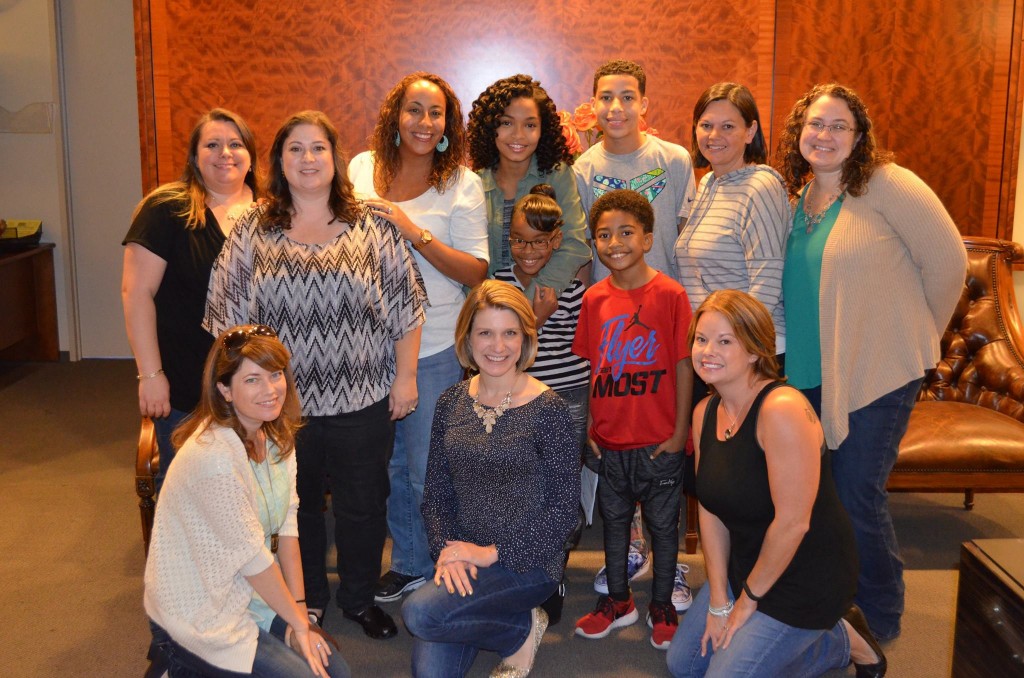 Here's what they had to say…
What is it like being on set?
Yara Shahidi: It's absolutely hilarious on set of course and then being able to work with such amazing comedic veterans is amazing. I feel like I'm learning so much from being on set, but it doesn't even feel like work and that's the weird part. I get up in the morning and I was just telling somebody, "Wait, I have work today? OK."…

Marcus Scribner: Yes. Working on set with all the veteran actors as Yara said is just an amazing experience. It's awesome everyday to come to work and learn something new from them. I mean let's be honest, they're all comedic geniuses. It's just pretty awesome.

Marsi Martin: They're like our mentors at acting…it wouldn't feel like work, like Yara said, because we actually feel like a real family. It wouldn't be like working, it'd be fun stuff. Acting with Anthony, Tracee and Laurence, they feel like a real family. We bond as a family. Together we are like unstoppable.
What's your favorite episode to have worked on so far?
Marsi Martin: The pilot.

Yara Shahidi: The pilot was a lot of fun.

Marcus Scribner: Yes the pilot was pretty awesome because it was a new experience for us all working together. I think we all immediately just bonded and it was just awesome going through the pilot together.

Marsi Martin: Especially because that was the first episode getting to know each other.
Are you like your characters in any way?

Yara Shahidi: I have to say I'm not very close character wise. I'm not very close to Zoey just because I'm the kind of person always reading and such. I spent my summer in taking two history classes. I have to be reminded, hey Yara people might want to know that Blackish is coming on tonight. You should probably post it. That's the kind of person I am. I usually forget my phone. Fashion wise, maybe not the same fashion but I am into fashion. Otherwise, I'm pretty different.

Marcus Scribner: Well I play lacrosse…I love playing lacrosse and I've played lacrosse since I was in second grade. I guess that's be pretty similar to field hockey. I also play basketball, which I guess is a cultural sport. I'm pretty close to Andre. Jr. I feel like most of the conversations that happen in the show have happened to me in real life. It's just a blast working as Andre. Jr.

Miles Brown: …I'm mostly close to my character as myself in real life. As we were saying the basketball and the sports, I'm also into those things but as well as acting. I'm also into what happens in my character's life too.

Marsi Martin: I'm pretty quirky. Well I don't have siblings. We all have siblings but this is my first experience of having … so it's kind of new to me. Well I like the computer very much. I'm kind of sporty. I played gymnastics and I did cheerleading for almost a year and a half. That's my thing.
What do your friends and family have to say about your success?
Yara Shahidi: They're extremely supportive…My school did a little thing in the newspaper for it and my family has been so supportive. It's been crazy…It's just been a great experience because everybody in my family is like that's what we do everyday. What's on the show is basically our lives and they've been letting everybody know, "Oh my niece or my granddaughter's in this show and she has amazing siblings and you just need to watch it".

Marcus Scribner: I have to say the same thing. My family is extremely supportive of the show…my grandmother, she's in sales and every time she would make a sale, she would start off like, "All right here, look I have this nice necklace, but guess what? My grandson is in the new t.v. show black-ish!" So it was pretty cool watching her make sales like that.

Miles Brown: They're just all extremely proud of us too because of the pilot, we haven't actually did an actual t.v. show, like we've done probably one episode of a t.v. show before or commercials, but we've never done anything as big as Blackish and they're just extremely proud and supportive. They would just go crazy when we would have a billboard "black-ish! black-ish! Look over there!" My family is amazing! They're always stopping and stuff. The pilot, my grandparents called me and the were like, "OK, we have it on DVR, we have it on Hulu, all the t.v. shows in our house are on Blackish. Everybody in our family is watching black-ish, if they're not, I'll sock them!" OK grandma, OK grandpa. They're real proud of me. It's just amazing how we became so big in this. Well it's been a dream of me being in a billboard and being on an actual t.v.

We even had the chance to chat with their parents and I have to give them props…they are completely supportive of their children and are doing the best they can to keep some normalcy in the lives of their children. It's incredible how they too have become a family.




They were even nice enough to take a picture with us at the Big Hero 6 Red Carpet Event




black-ish airs on ABC, Wednesdays at 9:30 ET / 8:30 CT and tonight's episode is super funny! Also be sure to check back for exclusive photos from my visit on the set of "black-ish"