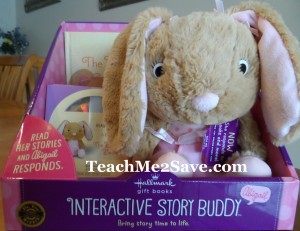 Have you seen or heard about the Hallmark Interactive Story Buddy? The buddy comes with a story and responds and interacts with your child during certain parts of that story when being read to, whether by you or your child or even when listening to the story on a CD. There are different buddies to choose from: Jingle, Abigail, Bigsby, Christopher, Nugget and someone you already know, Scooby-Doo. Each buddy has its on character and stories to share.

My 6 year old daughter is growing up way too quickly (she already talks to me about her future wedding…I know, I'm in trouble) and Abigail is the same way..in a rush to grow up. If only children knew what we know now, that wouldn't be the case! so there is an instant connection there. They also have 1 other thing in common, they are both super cute!!!!

My daughter is all into reading right now but if your kiddo is not quite there yet or they simply don't want to the buddy also comes with the story on CD. To keep things interesting, each time you read the story, Abigail's responses change so you never know what she is going to say. Abigail came with "Abigail and the Balance Beam" but she does have other books available:
Abigail and The Tea Party
Abigail and The Lost Purse
There are 4 ways to get your buddy to respond:
Interactive Books
Read-along CD
Online Story time at Hallmark.com
Story Biddy Apps (FREE)
***When reading stories to your buddy, make sure you read the highlighter part of the text clearly so that it triggers a response from Abigail.

Check out the video below to see her in action


Disclosure: I was provided with a Abigail, an Interactive Story Buddy in order to facilitate my review. No other compensation was provided. ALL opinions are my own.